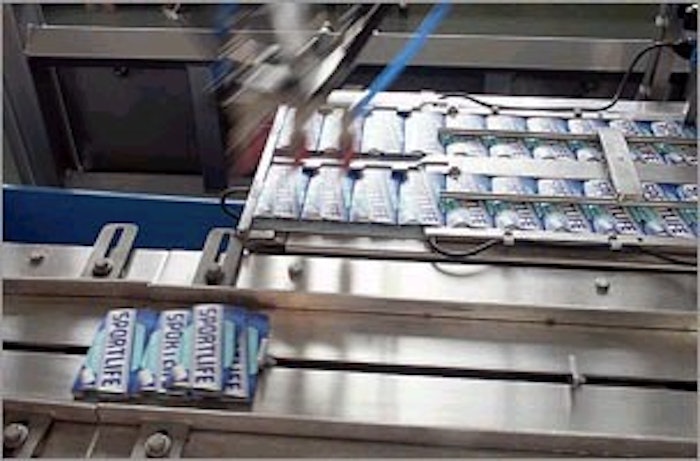 The two lines each utilize new infeed technology and consist of a SIG Delta Robot combined with a SIG HBM flow-wrapping machine.
The flow-wrapping operation was initially outsourced using co-packers. However, when increasing production demands exceeded expectations, it was decided to bring the packaging of Sportlife in-house. The RBV Leaf BV plant in Amsterdam produces the chewing gum tablets in different flavors, and the new lines have allowed the previously costly sales cartons to be replaced by trendy, cost-efficient flow packs in a new multipack configuration that meets the expectations of the company's target consumer groups.
Prewrapped blisters are overwrapped at 240/min on each line, with a printed carton band, and are transported to the secondary packaging operation. The blisters are then handled by the SIG Delta Robots and deposited into the flight chain of the wrapper in the desired count. The new infeed technology enables both lines to produce 2-, 3-, 4-, 5-, and 6-count multipacks, independent from each other, in single or double layer formats.
The lines allow for size changes to be automatically effected by program settings, without the need for changing parts or making manual adjustments. Adding new size capabilities is just as simple. The lanes of blister packs are delivered in parallel and are asymmetrically taken over by the robots. This gives ideal balancing of the incoming product flows, even in case of differences in row counts or pickings by the SIG Delta Robot.
The mirror image layout allows the two packaging lines, delivered in both left- and right-hand versions, to be operated by just one person. Furthermore, the low machine height provides an unobstructed view over the entire packaging area for the operator.
The printed OPP overwrap pouches provide an attractive point-of-sale presentation. The addition of a peg hole in the top seam allows the package to be suspended on a pegboard, which is the preferred method of display for most confectionery items. —ES
Companies in this article