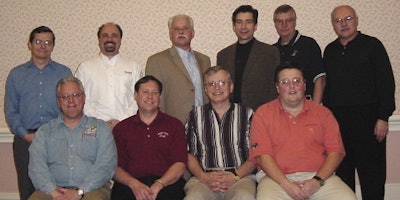 The OMAC Packaging Workgroup is on a roll. That was the feeling shared by most attendees at February's Open Modular Architecture Controls (OMAC) general meeting in Orlando, FL. Approximately 50 to 80 people were in attendance at Packaging Workgroup sessions. Recent advances in PackML (covered in the March 2002 issue of Packaging World) were among the highlights of the meeting. (PackML, which OMAC envisions as a sort of universal packaging machine language, is meant to simplify the collection and exchange of production and operating data from disparate machines on a packaging line, simplifying integration.) Fred Putnam, who leads the PackML team and represents coding/marking supplier Markem, presented. Putnam announced that PackML is headed out to the factory floor. Gary Downey, a packaging engineer with Hershey Foods (and who heads up the Packaging Workgroup's PackConnect team) confirmed that Hershey Foods is rebuilding a flow wrapper that will incorporate PackML as a pilot test. Plans called for the machine to be running within a couple of months. (The PackML team seeks additional pilot program partners. Interested parties are asked to contact Fred Putnam at Fred.Putnam@Markem.com. Fred Hayes, representing the Packaging Machinery Manufacturers Institute (PMMI), intended to solicit feedback from machine design engineers at PMMI's nearly 500 member companies about the newest PackML 2.1 state model specification (available for download at http://www.packml.org . The Packaging Workgroup executive committee deferred acceptance of the PackML 2.1 state model pending PMMI member feedback. The next steps, in addition to soliciting feedback and conducting pilot tests, are to begin work defining packaging-specific tag names that would constitute the basic building blocks for intermachine data exchange.
Pilot tests for PLCOpen standard announced
Reflecting the difficulty of harmonizing disparate motion control programming languages, the Packaging Workgroup's PackSoft team has "scaled our expectations down to something that will have more of an immediate impact," according to PackSoft team leader Jay Clark, president of ROY-G-BIV. The team plans to test a recent motion control specification released by PLCOpen, an international standards organization promoting interoperability of machine controllers. PLCOpen has followed with interest the OMAC Packaging Workgroup activities, and has fully cooperated. The pilot test of the PLCOpen specification will be conducted by several parties, including M&M Mars. The tests will determine if the specification saves time in programming and maintenance. They will also attempt to ascertain how reusable the software code is for other packaging applications. The team hopes to make recommendations on the standard pending the outcome of these tests, which are expected to last three to six months. The Louisiana Center for Manufacturing Sciences (LCMS) was discussed as a possible venue for testing. LCMS is a nonprofit R&D facility in Shreveport, LA, that encourages collaboration between manufacturing, research, and educational institutions involved in the manufacturing sciences.
Measuring business benefit
Rick Lidington, leader of the PackAdvantage team, identified a series of end user needs that can be used as the basis for measuring the business benefit of using servo technology. Those needs include the following:
Increased speed, efficiency, and reliability
Reduced cost
Shorter delivery schedule
Minimum footprint
Greater flexibility
Zero maintenance
Sanitary design
Standardization of parts
Reduced parts
As a machine builder, Lidington claimed that the following benefits could be achieved by embracing servos in a "clean sheet of paper" design:
At least a 50% reduction in parts vs mechanical design
Predictive maintenance vs reactive maintenance
Higher speeds and reliability
Extreme accuracy due to servos' absolute feedback
These and other claims made by machine builders employing servo technology are to be verified by the Packaging Workgroup executive committee. The committee will study end users who can document these benefits. The results will be reported in
PW
.
Further SERCOS interoperability sought
Peter Lutz, managing director of SERCOS IGS, spoke to the Packaging Workgroup about efforts to extend the interoperability of controllers and drives that conform to the SERCOS standard. The PackConnect team has pushed the SERCOS organization to increase interoperability.
Lutz reported that technical groups in Europe and North America are working to extend the specification with newly standardized parameters supporting packaging applications—parameters that had previously been vendor specific (precluding true interoperability). New conformance-testing tools have also been introduced, and SERCOS continues to look at other ways to increase interoperability.
The PackConnect team is developing, in cooperation with SERCOS, a packaging-specific "profile" that attempts to define a minimum set of SERCOS parameters required for interoperability of different vendors' controls in packaging applications.
Old and new faces
The Orlando meeting also represented the Packaging Workgroup's first turnover in staffing at the executive committee level. The bylaws state that each year, one controls supplier, machinery builder, and end user seat must turn over. End users may succeed themselves, but suppliers may not. After serving as one of the controls supplier representatives for a year, Bosch Rexroth's Scott Hibbard stepped down and was replaced by Yaskawa Electric Corp.'s John Downie, who ran for the executive committee seat against representatives from Siemens and Rockwell Automation. Pete Squires from Schneider Packaging Equipment was replaced by PackML team leader Fred Putnam of Markem, who ran unopposed for the machinery builder seat. Rob Aleksa from Procter & Gamble succeeded himself as the end user representative. The executive committee also formally adopted a name change—to the OMAC Packaging Workgroup—versus its previous tongue-twisting moniker, the OMAC Motion for Packaging Working Group. It also reflects the workgroup's move to identify standards beyond just motion control. Lastly, Packaging Workgroup executive committee chairman Keith Campbell has accepted—along with hundreds of others—a buyout offer from Hershey Foods. However, he has agreed to stay on for another year in his role as chairman of the Packaging Workgroup executive committee, representing Hershey in a consulting role. (He can be contacted at ">KS.Campbell@verizon.net"> KS.Campbell@verizon.net
Next stop: Germany
The next OMAC Packaging Workgroup meeting will be held at the megashow interpack 2002 in Dusseldorf, Germany, in late April. The goal is to present an overview of what the workgroup has done so far and try to enlist the involvement of European packaging end users.
Companies in this article
Videos from Yaskawa America, Inc.