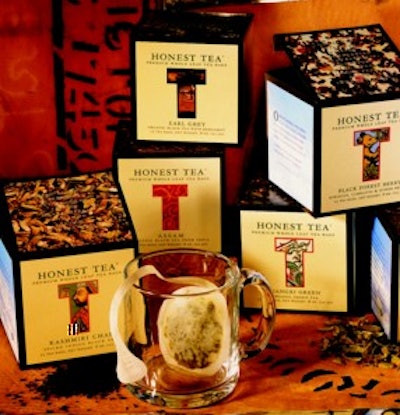 Honest Tea's Seth Goldman told Packworld.com that it wanted to create a tea bag that captured natural tea taste. Goldman explains, "Other tea bags have chopped up leaves and the taste is not as fresh. We wanted to make tea bags that could hold whole tea leaves, which grants more potency and flavor in our teas."
The so-called "integral retrieval device" (IRD) tea bag from Copack did the trick. The IRD tea bag is a biodegradable, round single-serve bag with a die-cut extension of the tea bag itself that unfurls over the cup. The tea bag filter is made of a heat-sealable, nonwoven, unbleached filter that is elastic and tear-resistant.
The IRD coiled extension of the tea bag creates a one-piece tag and bag, which replaces the standard string, staple and printed tag. The Honest Tea logo is embossed on the IRD, and the bag and die-cut extension is formed on a Copack form/fill/seal machine.
"It definitely costs more to make this kind of tea bag," says Goldman. "But, the feedback from customers has been great. It is like drinking loose-leaf tea without the mess."
Wrap it up
The tea bags are individually sealed in a rectangular, four-side sealed overwrap pouch also supplied by Copack. Eight varieties of natural and organic whole leaf teas are color coded for retail brand recognition. Copack flexo-prints each design in two colors. The overwrap it is made of 50# food-grade MF kraft, coated on one side with a special odorless and tasteless 7# heat-sealable low-density polyethylene.
Fifteen packets are packed into a colorful paperboard box supplied by McCormick Press (Hunt Valley, MD). The design is offset-printed in five colors on 20-pt recycled paperboard from Rock-Tenn (Norcross, GA).
Each box retails for $3.99 to $4.99 on the East Coast. Honest Tea can be found in supermarket chains nationwide, such as the Fresh Fields/Whole Foods Market, Dean & Deluca, Giant and Harris Teeter and in gourmet food shops.
Companies in this article