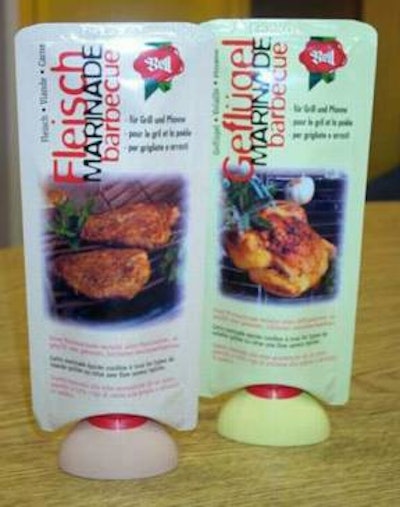 Huhtamaki gravure-printed the 70-micron polypropylene in six colors. Twelve-micron polyester and 9-micron aluminum foil was then laminated to the printed PP.
The pouch is filled on a Laudenberg form/fill/seal machine, represented in the U.S. by Profile Packaging (Sarasota, FL).
The injection-molded polypropylene closure/base, supplied by Herrmann (Switzerland), is specifically designed with a tamper-evident, breakaway band.
By positioning the closure at the bottom, the package, structurally designed by Obrist (Switzerland), is intended to be easy to empty.
Bell is reportedly the first company to package barbecue sauce in such a pouch. Bell launched the new package in Jan. 2000. Previously the product was in a tubed package. Huhtamaki says the pouch material, which has a one-year shelf life, is thinner and cheaper than the thicker tube material that was used previously, thought Bell officials weren't available to verify the packaging economics.
Companies in this article