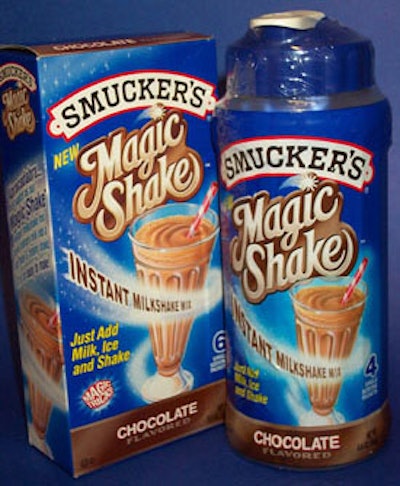 Orrville OH-based J.M. Smucker Co. which has its Magic Shake instant milkshake mix in test markets declined to respond to Packworld.com questions regarding details on materials specifications.
Magenta Corp. (Chicago) supplied the polypropylene custom closure weighing 14 grams. According to Magenta Smucker's wanted a water-bottle type of closure. The cap features an opening for consumers to directly drink from insert a straw or pour into a glass.
Included on the flip top is the Magic Shake logo and the Smucker's logo is visible on two sides of the cap. The closure is produced in a two-part process. First the threaded cap is molded then the flip-top fitment is attached.
Sugary design
According to bottle supplier Progressive Plastics (Cleveland OH) Smucker's wanted the fluted design of the bottle to be patterned after the old sugar dispensers found in diners. The design forms vertical ridges around the bottle and presents the Smucker's logo on two sides. The polypropylene bottle is extrusion blow molded in a reciprocating process on a Model 350 machine from Uniloy Milacron.
Four 1.4-oz single-serving packets which contain the powdered mix are packaged inside the bottle. The flexible package which appears to be a foil or metallized structure plays off the branding with a different magic trick printed on each.
Magic Shake is sold in a removable promotional and protective shrinkwrap that is flexo-printed in at least seven colors. It encloses the cap to provide tamper evidence and is vertically perforated for easy removal.
Cartoned refills
The bottled 5.6-oz instant milkshake mix which includes four single-serving packets sells for $2.69 in the Chicago area. Refills for the Magic Shake are sold in a folding carton featuring the same graphics design as the shrinkwrap. The carton contains six single-serving mix packets and also retails for $2.69 in the Chicago area.
Companies in this article