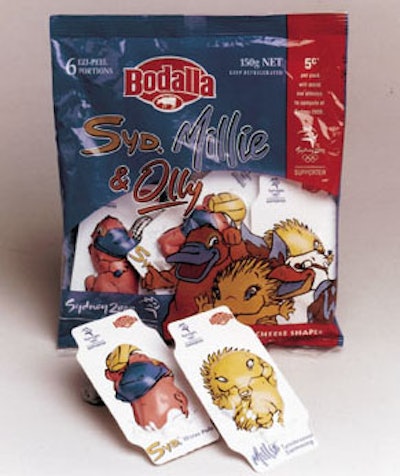 Each 150-g (5.29-oz) bag includes six 25-g (0.88-oz) thermoformed/filled/sealed packs of Bodalla-brand cheese filled on a Unifill TR86 SC tf/f/s machine from Elopak (New Hudson, MI). Filling of the high calcium and vitamin cheese is done at 17 cycles/min, which produces 102 portion packs/min.
The 300-micron (11.81-mil) film used for the pack is supplied by RPC Cobelplast (Lokeren, Belgium). The structure includes polystyrene/ethylene vinyl alcohol/polyethylene. Seven-color gravure printing is done by a firm in Germany.
The tf/f/s machine, when equipped with a different mold, is also used for Bodalla Fun Cheese, Toy Story 2 shapes based on the movie's characters. That version was launched in September, 2000.
Meanwhile, the Olympic Mascot Cheese was introduced last year and will be available throughout Australia until the end of October, 2000. The Olympic cheese six-pack retails for $2.89 ($1.59 U.S.). Valerie Donlon, Bonlac's manager of corporate communications, says the product is sold in the refrigerated dairy case with a 12-month shelf life.
Graphics for both the individual packs and the outer bag carry the Olympic host country's indigenous Syd, Millie and Olly (short for Sydney Millennium Olympics) characters playing Olympic sports such as water polo and synchronized swimming, as shown in the accompanying photo. Packs feature one of 12 different designs. Copy on the outer pack promotes the easy peelability of the portion packs, while also saying that 5¢ per pack (3¢ U.S.) will assist Australian athletes competing at the 2000 Olympics.