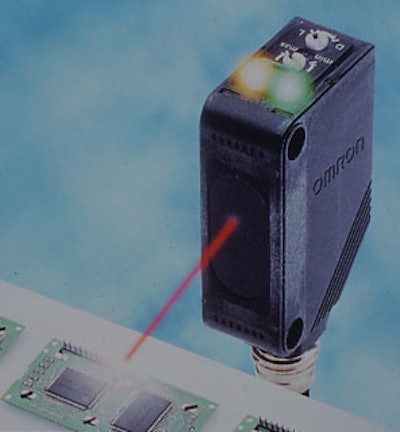 The interview was conducted in person in early August with Dave Grimmett, Omron Electronics (Schaumburg, IL) product marketing specialist, photoelectric sensors. Grimmett claims that the packaging industry is the biggest opportunity for market growth in sensors.
Market growth isn't due to having more sensors on machines. According to Grimmett, there are no more sensors on machinery than there were years ago, but that the application of more sophisticated sensors simply makes the machines more reliable. New technology offers the ability to detect clear and highly reflective materials. Advanced optics and integrated chip technology offer electrical noise immunity, shock resistance and washdown capability in a significantly smaller package, he adds.
Other trends (based on products from all sensor suppliers, not just Omron):
Improvements in the sensing distance of these kinds of devices such as across wider conveyors. For example, an application that meant installing two sensors, one to send a signal and one to receive it (also known as through-beam mode), can now be replaced by a single sensor with emitting/receiving capability.
Trend toward quick-disconnect sensors. If a 5-meter-long cable to a conventional sensor breaks, it means it must be completely rewired. With quick-disconnects, a new connection can be made almost immediately.
Customization of sensors. In one example, a sensor's sensitivity was preset and made unchangeable via the circuit board so that operators wouldn't mess around with it. He points out that customization can only be done economically for large volume orders.
Grimmett says the hottest trend within packaging is the use of sensors in labeling and related inspection-type applications.
In packaging, he says improper installation is one of the biggest problems. Grimmett¹s advice to ensure the proper and successful application of sensors? Get the sensor manufacturer involved early on.
Companies in this article