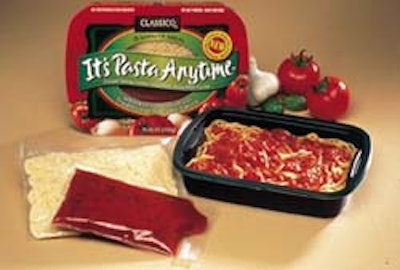 The Smart Cooker is a green, monolayer polypropylene tray that contains two pouches: one with Borden's Classico® sauce and the other with cooked pasta. The consumer opens both pouches and combines them in the tray prior to micro-waving.
Although he wouldn't divulge specifics on the packaging process, Rod Simpson, manager of packaging development at the Cleveland, OH-based company, did say that both pouches are made of high-barrier film laminations that include ethylene vinyl alcohol for barrier. Curwood (Oshkosh, WI) provides the materials. A perforated tear strip on the seal area of the sauce pouch simplifies opening and pouring. Both pouches are filled on vertical form/fill/seal equipment at a Borden manufacturing facility in Northbrook, IL.
During cooking, microwaves penetrate the food faster because of the raised bottom on the Smart Cooker tray, Simpson says. This provides more even heating for the 15 1/4-oz. pasta meal. Borden designed the tray in conjunction with thermoformer Rexam (Union, MO). It's equipped with tabs on both the front and back that secure to notches on the paperboard sleeve, allowing the sleeve to "lock" into position on the tray. The lidding material, heat-sealed to the Smart Cooker, is a 3-mil peelable polyester supplied by Packaging Partners (Franklin, WI).
Offset-printed by Smurfit-Stone (Chicago, IL) in four colors, the sleeve for It's Pasta Anytime incorporates a "foot" that helps it stand upright on the shelf. The foot is formed inline, not preglued. That's one reason Borden chose to use a sturdy 18-pt SBS for the sleeve. A small window on the face of the sleeve allows the consumer to see the product inside.
Targeted at harried cooks short on time, It's Pasta Anytime is available in four different flavors and retails for $2.99.
In a hurry? Request more info via Web-based reader service by clicking on the reader service number.
Or you can jump right to their Web site if one is listed.
Companies in this article