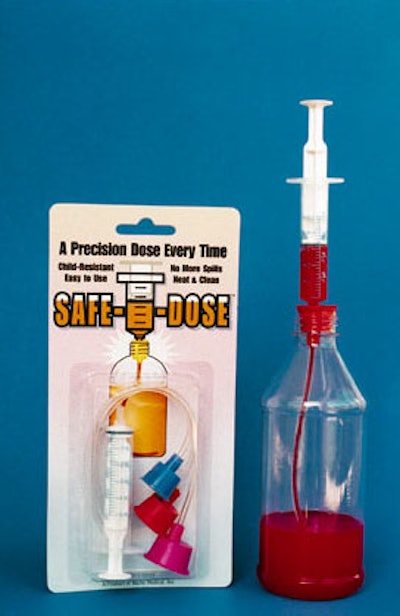 Introduced in August, Safe-T-Dose was invented by Dr. Thomas Watson, board secretary and CFO of his San Diego-based company, Bache Medical, Inc. The product includes an oral syringe and three stopper/tube adapters packaged in a carded blister. A blue stopper fits bottles with 15- to 18-mm neck finishes; orange is for 17 to 19 mm, and pink fits 18 to 23 mm.
The 10-mil thermoformed polyvinyl chloride blister comes from PPI (Union Gap, WA). PPI also supplies the 21-pt SBS board. The package measures 3 ?"x7 ?". Omega Molding (Covina, CA) makes and assembles the products, loads them into the preformed blisters, then heat-seals cards to the filled blisters to complete the package.
The front of the card is offset-printed in four colors plus an aqueous heat-seal coating. One-color copy printed on the back of the card instructs the user to remove the cap from the bottle, insert the adapter, pull the plunger on the oral syringe to draw up the correct dosage, and then depress the plunger to dispense the liquid into the patient's mouth. Once the product is dispensed, the syringe can be removed and washed. The adapter remains in the bottle. The cap is then retorqued onto the bottle.
"Safe-T-Dose has two patents and is designed to make it easier to dispense liquid medicines to both children and the elderly," says Watson. "We sell it to retail and hospital drugstores that retail it for about $3.50."
Companies in this article