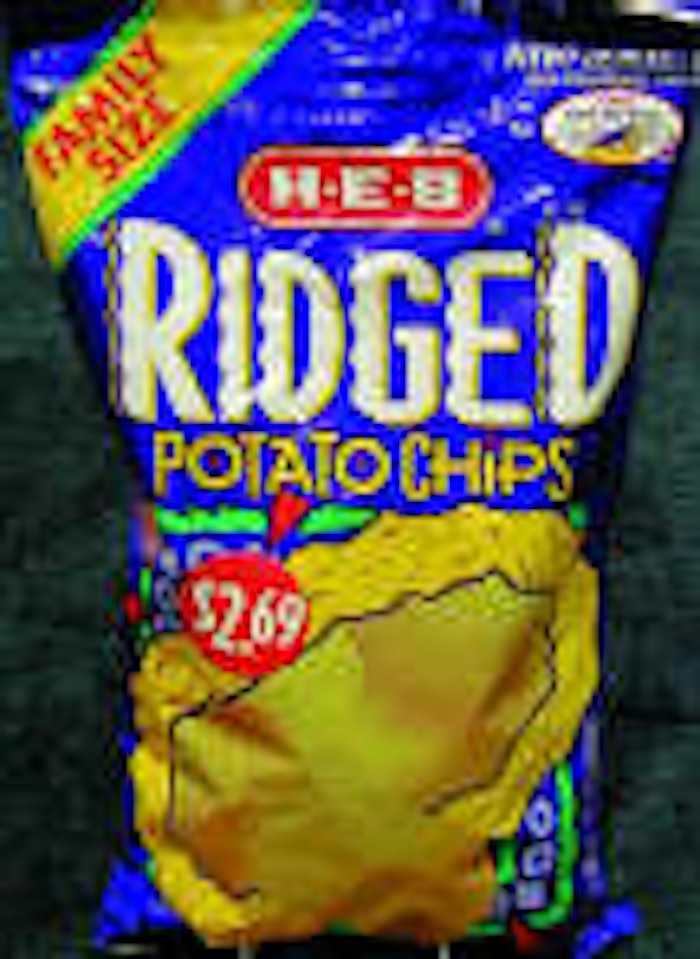 '98, p. 2 or packworld.com/go/frito). But now that's changed with the October roll-out of a 20-oz bag of ridged potato chips from H.E.B. Everyday-low-priced at $2.69, the bags are sold throughout the Texas territory of this San Antonio-based supermarket chain.
"This is a multi-use package, so the zipper keeps the chips fresh until the next use," says H.E.B. snack food plant leader Marc Leclair.
According to Leclair, snack-food companies that are testing reclosable zippers on bags of chips have found it difficult to minimize film waste and maximize throughput. H.E.B., in a newly built snack-food plant in San Antonio, has met both challenges, says Leclair.
While Leclair chooses not to identify the bag's film specs or packaging speeds, he's more forthcoming about the machinery on which the bags are made: a Polaris f/f/s machine from Woodman (Decatur, GA) and a zipper profile applicator from AMI RecPro (Glenview, IL). AMI RecPro also provides the TopZip(TM) Proseal® reclosable zipper.
The bag is designed so that it can be opened the same way most consumers
are accustomed to opening such family-sized bags: by pinching the front and back panels between thumb and forefinger and pulling the panels apart, thus breaking the heat seal at the very top of the package. An illustration touting this "pinch-and-pull" opening occupies a prominent spot on the bag's upper-right corner.
Companies in this article