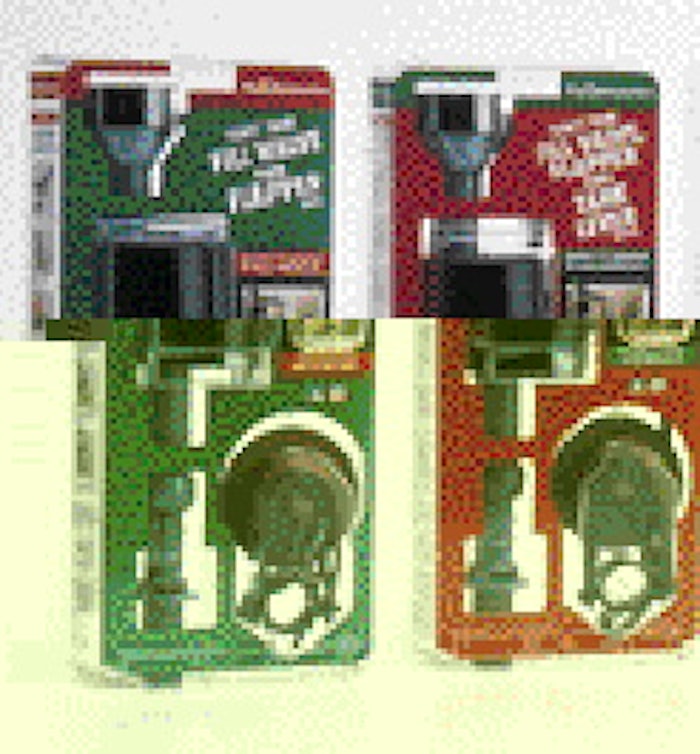 The previous blister pack holding the flush valves had a lip surrounding the entire package. It was up to 1/8" thick and 3/8" wide. Because this lip has been eliminated from the new package, Fluidmaster can fit more product in its retail store displays. The elimination of the lip also makes it possible to stand the pack on its flat bottom. The pack can also be hung from a peg display.
Introduced in April, the package consists of two polyvinyl chloride thermoforms made in-house by Fluidmaster. Sierra Pacific Packaging (Orville, CA) prints and die-cuts the 10-pt SBS cards, which are offset-printed in six colors. Product and card are placed between the front and back thermoform and the two formed pieces are heat-sealed together.
Available nationally at hardware and other retail outlets, the products sell from $4.99 to $11.99. Product development manager Kevin Doverspike says the response from both customers and retailers has been good. "Our sales are up about 10 percent on these particular products," he says. "It helps because we can get the product out faster and get a faster return and reorder cycle from our retailers."
Companies in this article