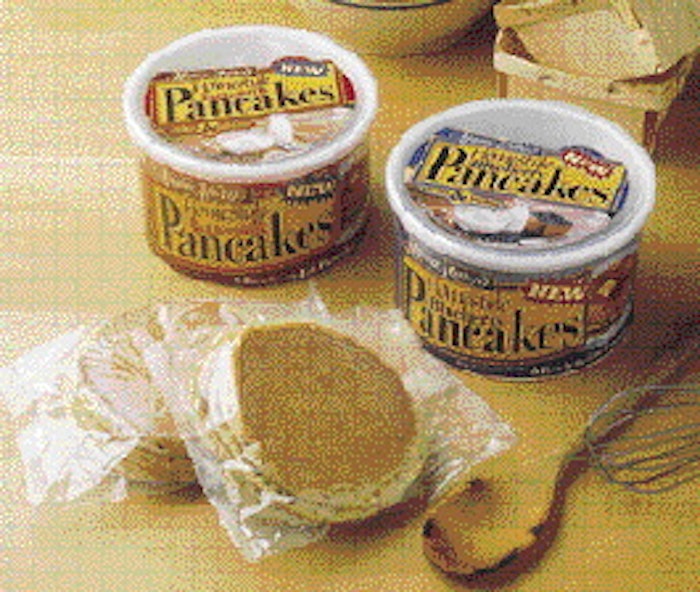 Supplied by Huhtamaki (DeSoto, KS), the 21-pt paperboard blanks are litho-printed in four colors, with a polyethylene coating on both sides. Spartan Foods leases Huhtamaki's FM-1400 Ultrakan(TM) forming machine that forms the sidewalls, with a rolled top, and the recessed flat bottom from the paperboard blank.
"Huhtamaki is one of the only companies that supplies these kinds of containers and they are very responsive to our needs," says Tom Baliker, Spartan Foods' president and CEO. That saves the small company freight costs and eliminates storage space that would be needed if premade containers were used.
The 4"H, 61/3" dia Ultrakan contains six 6" fluffy pancakes packaged in two heat-sealed film packs of three. The clear, unprinted film comes from Printpack (Atlanta, GA). All Spartan Foods will say is that the film blend includes nylon and ethylene vinyl alcohol. "I don't think there's a better oxygen-barrier film than this," Baliker says.
Baliker says each film pack "is gas-flushed and has a 90-day shelf life." An injection-molded overcap, believed to be polypropylene, includes a colorful pressure-sensitive label that tops the package. A clear, polyvinylidene chloride shrink band provides tamper evidence.
Mama Mary's pancakes were introduced in May in the southeast. They're now going nationwide, and they retail for $2.49 to $2.79. "In 30 seconds, a consumer can microwave the product and have fresh, hot pancakes," says Baliker.