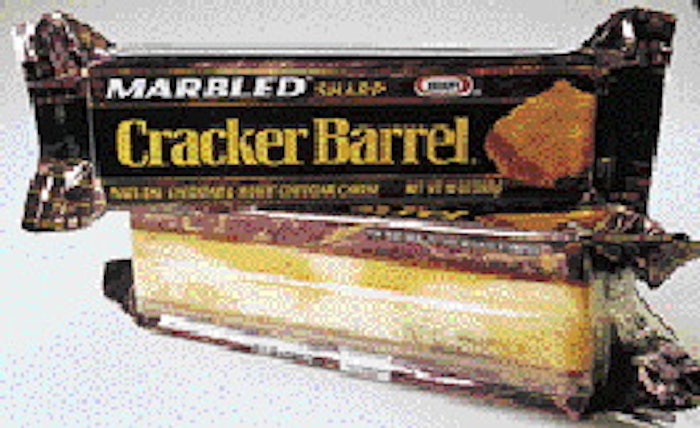 In collaboration with Pechiney Plastics Packaging (Chicago, IL)and DuPont (Wilmington, DE), Kraft changed from a 60-ga oriented polypropylene-based lamination to a 50-ga extrusion lamination of DuPont polyvinylidene chloride-coated Mylar® polyester metallized PP/sealant layer.
"We went from an older technology to a newer technology," says Mark Michaels, group leader at Kraft, Northfield, IL. "In doing that, we eliminated inconsistencies in the film." Cost, adds Michaels, stayed the same.
The Mylar polyester in the new structure provides heat resistance as the film runs on packaging equipment, as well as abuse resistance during shipment, says Gary Falkenstein, vice president of marketing and business development at Pechiney. The PVDC layer provides an oxygen barrier that prevents the cheese from degrading, he adds.
The metallizing in the structure includes a clear stripe, revealing the color of the cheese. Pechiney receives the polyester layer already coated with PVDC. Pechiney reverse-prints the polyester layer on a gravure press in seven colors, then extrusion laminates to it both the metallized PP and the sealant layer. Film is sent in 16" rolls to Kraft plants in Springfield, MO, and Lehigh Valley, PA. There, the material is wrapped around the cheese on a form/fill/seal machine.
Available nationwide, the cheese retails for $2.59 to $2.79.
Companies in this article