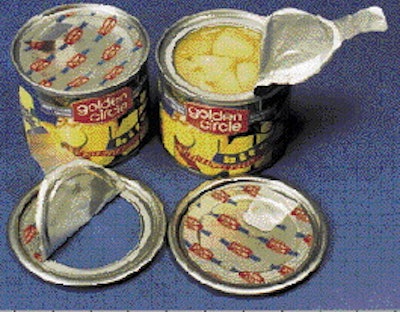 The three-piece steel can, made by Amcor Food Cans Australasia (Camberwell, Victoria, Australia), has a steel end that features an easy-open peelable foil membrane. Amcor makes the end on a Model MHM machine from Switzerland's Hans Rychiger AG. Rychiger's U.S. representative is Packaging Technologies & Inspection (Tuckahoe, NY).
Rychiger machines convert conventional ends into peelable-membrane ends in a cam-driven converting machine that cuts, places and heat-seals the foil onto the end in a single stroke. Such ends have been used for dry food packaging since the '80s. More recently, these peel-able-membrane ends began showing up on cans of retorted food products after Rychiger developed a "retort curl" that leaves the raw edge of the end totally rolled into itself to avoid contact between the can's food contents and uncoated steel.
The award-winning Fruit Bites can end incorporates this retort curl. What sets it apart as an award winner is a special coating applied to the foil by the foil membrane supplier, Alcan (Montreal, Quebec, Canada). This coating prevents acidic products like pineapple from attacking the foil. The Fruit Bites can end is the first easy-open peel-able-membrane end to accommodate acidic foods. Shelf life is two years.
Steve Christie, technology manager at Golden Circle, says the former can for Fruit Bites had an easy-open steel end that opened where it was scored. This left a sharp edge that made the package inappropriate for school lunch programs. Christie admits the new end costs a few cents more. "But it's gotten us into markets we couldn't be in before," he adds. He also notes that the same filling, seaming and rotary cooking equipment used for the old can are all used for the new can.
Introduced in October '98, the Fruit Bites can is sold in supermarkets throughout Australia, where the suggested retail price is AUS$2.78 (US$1.80) for a four-pack.
Companies in this article