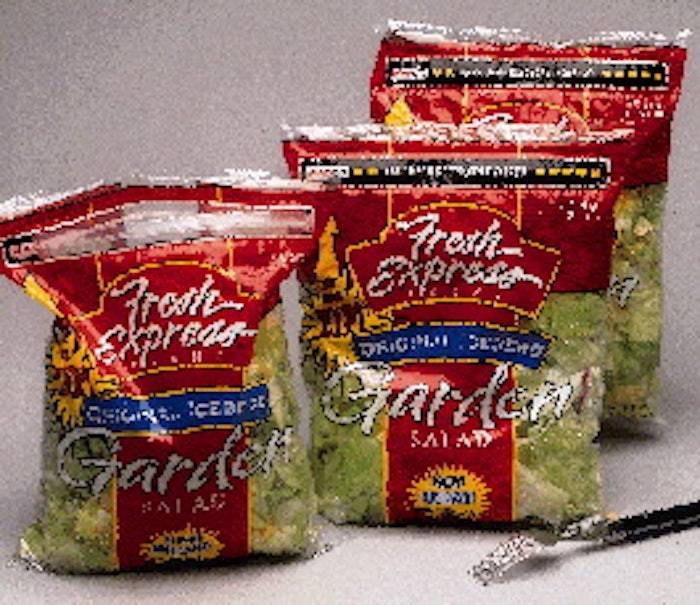 (Carbondale, IL).
Though Fresh Express wouldn't comment on the market test, the firm did permit Z-Patch to show samples of the bag at Pack Expo 98. Also on display at the Z-Patch booth was the equipment it has designed for marrying zippers and film. It cuts a predetermined length of zipper material, which has 1/2" flanges on either side of the zipper itself, and heat-seals the flanges to the unprinted side of the flexible film. The machine also perforates a film strip where the zipper-said to be a polyethylene blend-has been positioned. The Fresh Express bag displays the image of a zipper and the words "Peel Here." By peeling as directed, the consumer gains access to the zipper and the salad inside.
The advantages are several compared to other in-line application technologies, says Z-Patch president Greg Sprehe. First, most zippers affixed in-line are positioned in the machine direction to avoid sacrificing packaging speed. Because the zipper runs down the long side of a rectangular bag, it's out of sync with vertical graphics like those on the Fresh Express bag.
Sprehe also points out that customers can implement the Z-Patch without having to do anything to their vf/f/s machines because the rollstock with Z-Patches runs no differently than without. Rated speed of the zipper applicator, says Sprehe, is 60/min.
Finally, because it's a partial-width zipper, heat-seal jaws don't have to crush-seal thick zipper material as they do in some in-line applications. Top-and-bottom cross seals are made through the film just the same as they would be if the package had no zipper at all.
Companies in this article