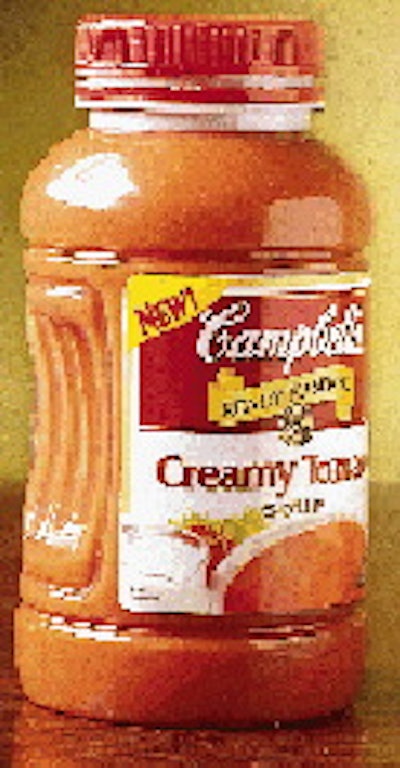 Marion, NY-based Seneca claims it is the first to hot-fill apple sauce in a polyethylene terephthalate pinched-grip jar. Injection stretch/blow-molded by Graham Packaging (York, PA), the jar has a 63-mm finish. It also exhibits some of the same geometry at the shoulder as the hot-filled PET jar produced by Graham for Tree Top's 48-oz hot-filled apple sauce (see Packaging World, March '98, p. 4). This geometry once again helps provide top-load and hoop strength so that the round container won't be deformed as the hot-filled product cools and internal vacuum pressure in the jar builds. According to Graham, the container can be filled at temperatures up to 200°F.
Seneca director of marketing Kevin Hennessy says the feedback gained from focus groups made it clear how greatly preferred plastic is, even when the container doesn't have a built-in grip. "But then we showed them the pinched-grip design and they said, 'Now that's what we really want.'"
Graham produces the jars at its Selah, WA, plant, and Seneca fills them at its Prosser, WA, facility. The jars have an induction-sealed foil membrane that comes inside an injection-molded polypropylene Edge-Seal(TM) linerless closure from Sun Coast Closures (Sarasota, FL). According to a Sun Coast spokesman, a special coating had to be developed for the foil so that it would provide a reliable hermetic seal at "near 200-degree-Fahrenheit" temperatures. Also significant, he says, is the edge-seal feature molded into the closure that keeps water from being drawn between the container's neck finish and the closure during cooling. If water is allowed to enter, it forms a puddle on top of the foil. At the very least, this is unsightly. Worse, it could allow mold growth over time.
Three of the four apple sauce varieties Seneca offers in the new jar are packed 48 oz per container, while one slightly less dense variety weighs 46.5 oz. Now being phased out at Seneca, says Hennessy, is a hot-filled glass container holding 44 oz. All four varieties in the plastic jar sell for $1.99 to $2.49. On an ounce-for-ounce basis, consumers pay about the same for Seneca apple sauce in either plastic or glass.
The 32-oz Campbell Soup container and closure, though similar in appearance to Seneca's packaging, come from two different suppliers. Schmalbach-Lubeca (Plymouth, MI) injection stretch/blow-molds the PET container. It has a white, crystallized neck finish that is a mark of the Yoshino technology S-L is licensed to use. An S-L spokesperson contends the crystallization helps the finish hold its dimensions during hot-filling and cooling.
The 63-mm closure on the Campbell container is injection-molded PP and comes from White Cap (Downers Grove, IL). The deep-skirted closure has a drop-down breakaway band for tamper evidence. Adhered to the inside of the shell is White Cap's EZ Torque(TM) liner, a compression-molded, thermal plastic elastomer that is a proprietary formula of rubber and polypropylene. It ensures an hermetic seal and obviates the need for a foil membrane, says a White Cap spokesman.
Considering that Camden, NJ-based Campbell's condensed soup is probably the world's most identifiable food product in a can, it's noteworthy to say the least that the firm is testing a ready-to-serve soup in a plastic, reclosable container. But Campbell spokesperson Judy Freedman emphasizes that the plastic container is an alternative to, not a replacement for, canned soup. The plastic container sells for $2.39 in its northeastern test market.
Companies in this article