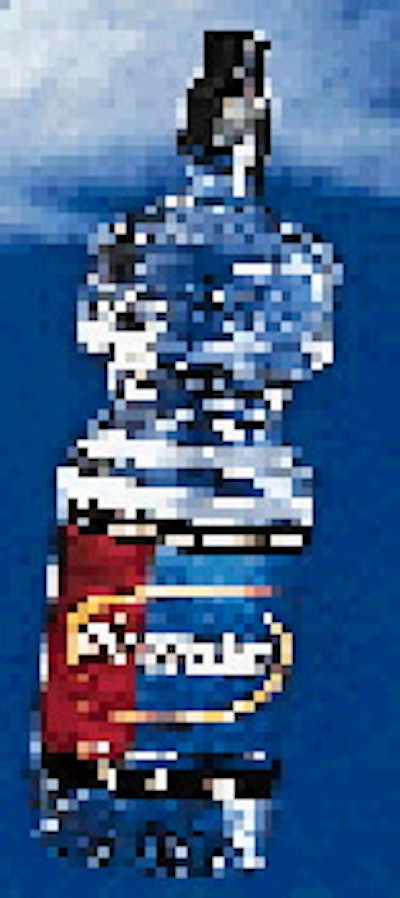 All this in packages that are virtually identical to still waters.
Talking Rain's airwater(TM) and Life O2 Intl.'s product of the same name are both filled into bottles of polyethylene terephthalate in a variety of sizes. To contain the added O2, Talking Rain of Preston, WA, relies on an induction seal on three sizes of its signature Grip bottle from CNC Containers (Tumwater, WA). Naples, FL-based Life O2 also induction-seals its heavy 34-g, 20-oz stock PET bottle from Silgan (Chesterfield, MO). Talking Rain reports that once opened, oxygen will remain in airwater for several hours. Unopened, it has a shelf life of up to six months.
Both manufacturers use a polypropylene/PE sports cap system from Creative Packaging (Glenview, IL). Life O2 uses an elaborate see-through label to attract customers, who can see through the front label to an action panoramic photo visible through the water on the inside back. The wraparound 2-mil PP label is first reverse printed in four colors for the action scene. An opaque layer of white is screen-printed next, with certain copy dropped out. Three more colors are then screen-printed, with certain copy dropped out. Three more colors are screen-printed on top of the white, followed by another hit of green via offset. Finally, a UV varnish is applied. At Dow Industries, a Div. of Screen Print Dow (Wilmington, MA), all 10 steps are done in-line in a single pass.
For its part, Talking Rain's label was designed by an undisclosed design company. The glue-applied labels are printed offset in five colors by Salem Label (Salem, OH). The water is available in three sizes: 1-L selling for $1.19, 24-oz for 89¢, and 1/2-L bottles sold for $3.99 per six-pack. Life O2 is available in a 20-oz bottle that sells for $1.39.
Companies in this article