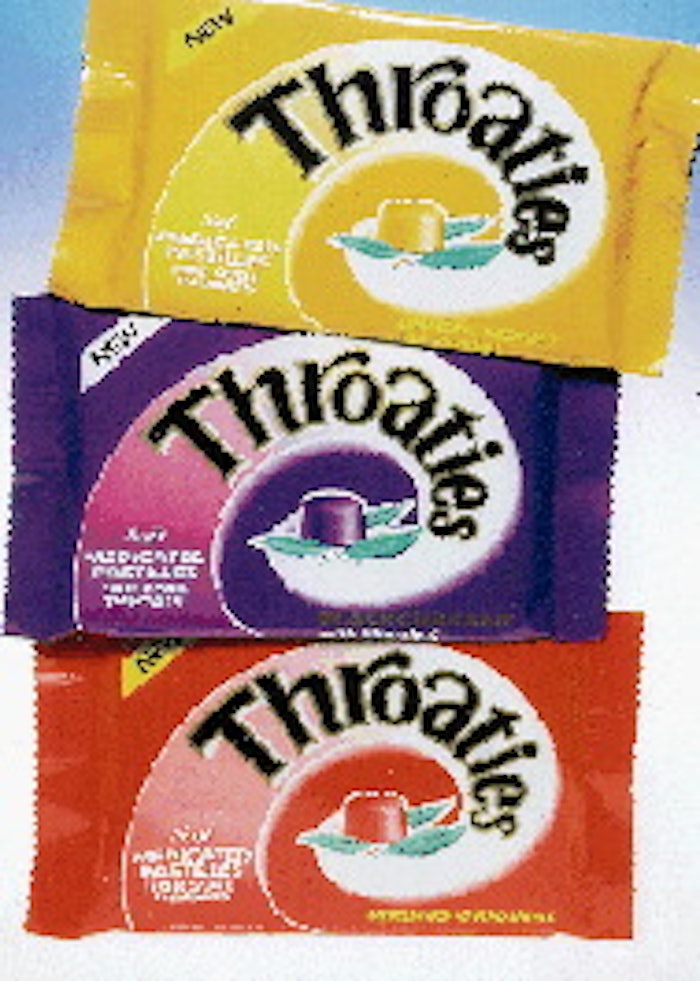 The unusual combination of otherwise conventional packaging technologies is unique to the category, according to the company.
The blister packaging, consisting of standard foil/vinyl materials, permits consumers to keep remaining lozenges fresh, which was difficult before since the foil bag was not resealable.
The new flow-wrap material consists of 20-micron (79-ga) clear-oriented polypropylene that's reverse-printed in gravure in seven colors and adhesive-laminated to 30-micron (118-ga) metallized OPP. A cold-seal coating is applied to the intended sealing area. The film was supplied by Teich Flexibles (formerly Bonar Teich Flexibles Ltd.), represented in the U.S. by H&N Packaging (Chalfont, PA). It was selected over a folding carton, the conventional alternative, since it provides a better barrier plus an attractive, glossy surface.
The lozenge blisters are packaged on a new flow wrapper from GEI Europak, represented in the U.S. by GEI Mateer-Burt Co., Inc. (Exton, PA).
Though the new packaging is more expensive than its predecessor, Ernest Jackson marketing manager Pam Frances reports a positive response from the market and many new trade openings since the autumn '97 launch. The retail price increased from £0.55 to £0.59 (92¢ to 99¢), and the count increased from 14 to 15 lozenges.
Companies in this article