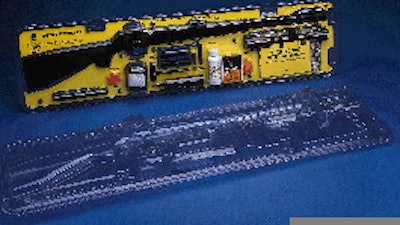 and Canada.
"Before last fall," says Dudley McGarity, the company's national sales manager, "we sold a rifle within a box, but the gun itself would have to be behind the counter in a gun rack [presumably for safety reasons]. With the clamshell, retailers can sell the rifle in a clear package where consumers can see it."
Each clamshell has about one dozen cavities to hold cleaning accessories, instructions and a video tape on the use of the gun. Therefore, CVA no longer has to rely on sales floor personnel to tell consumers what they need to purchase with the rifle. The clamshell now is used for about 10 different rifle styles, accounting for about 25% of the firm's total rifle sales.
The clamshell is thermoformed by Display Pack (Grand Rapids, MI), using impact-modified virgin PVC calendered into rollstock by Klockner Pentaplast of Amer-ica (Gordonsville, VA). The modified material, says Display Pack, helps prevent the plastic from shattering and stands up well during in-line cutting.
The deepest draw in the clamshell is approximately 21/4". Unfolded, the clamshell measures 447/8" L x 23 23/4" W. Ten button locks are also formed into the clamshell to help lock the container, which is filled by CVA and sealed ultrasonically.
Companies in this article
Videos from Klöckner Pentaplast Pharma, Health & Protection and Durables