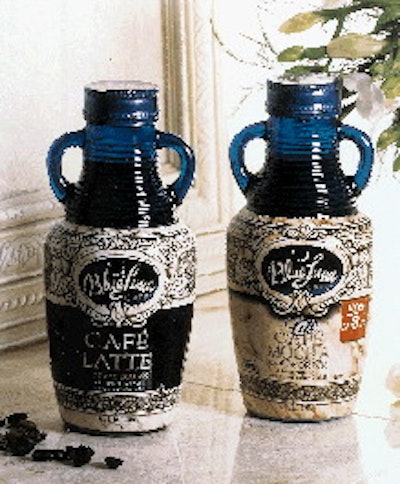 The bottle, supplied by Ball-Foster (Muncie, IN), sports a polyvinyl chloride shrink-sleeve label gravure printed in nine colors by American Fuji Seal (Bardstown, KY).
John Balboni, executive vice president for business development at FV&S, credits Ball-Foster with engineering work it performed to produce the double-handled bottle. "It's hard enough to mold one handle," he says, which is what the firm did for its Mississippi Mud bottle (see Packaging World, Dec. '97, p. 22, or packworld.com/ go/mud). "When you want two, it makes it even more difficult. It complicates the packaging [too], especially the capping process, where you hold the bottle. And the orientation of the label is more difficult."
Reaction from the trade has been extremely good, says Balboni, adding that the product will eventually be sold nationally. Suggested retail price for the 12.5-oz beverage is around $1.50. On a per-ounce basis, that's slightly less than the category leader, Frappuccino, which is sold in a 9.5-oz bottle, according to Balboni. Offering a larger size compared to the category standard "is in keeping with our approach, offering more [product] for a little bit more [money]."
However, FV&S isn't ignoring its bread-and-butter products. To give a shot in the arm to its flagship AriZona Lemon Tea, the firm is rolling out a glass bottle (also from Ball-Foster) that's molded with a hand grip, AriZona lettering and the brand's checkerboard pattern. At the same time, the bottle returns to a 20-oz size based on customer demand. Before the redesign, it was offered in a 16-oz size, though it originally debuted in a 20-oz size that set it apart from the rest of the category.
Companies in this article