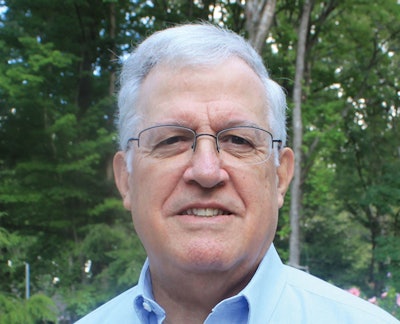 Wikipedia defines disruptive innovation as a development "that helps create a new market and value network, and eventually disrupts an existing market and value network (over a few years or decades), displacing an earlier technology."
Form/fill/seal (FFS) is certainly that. FFS packaging has, in fact, irrevocably transformed packaging from the long supply chain buy/fill model to the shorter and more efficient make/fill model.
In a packaging technology field that is constantly evolving, FFS has evolved from being a narrowly capable methodology to make flexible pouches and bags to become THE defining process for late 20th Century/early 21st Century packaging operations. Early horizontal-action FFS machine technology and vertical-action systems spawned thermoform/fill/seal lines, then blow/fill/seal lines and, eventually, lines to make and fill a wide range of flexible and semi-rigid packages, even plastic bottles.
It is now clear that the pre-World War II era of rigid packaging dominance, in which cans, bottles, jars and boxes were made in container-manufacturing plants far from the packagers who filled, sealed, labeled, case-packed, palletized, and shipped them to retail and institutional distribution centers, is coming to an end. The new age of packaging—the FFS era—is underway. And it's only a matter of time before many packaging lines become make-at-fill site operations.
As it is evolving, the FFS age is a tapestry of technologies characterized by continuous advances whose signature hallmarks include:
• In-house manufacturing. The barrier to entry for most packaging formats has been lowered to the point where skilled packaging managers can readily deliver packages formed on lines in one part of their plants just as downstream systems are ready fill them only a few steps away. The Make-Ship-Fill packaging paradigm is continuing to fade, increasingly replaced by the Make-Fill-Seal standard.
• Lighter and less packaging. Like a Michelangelo marble, unnecessary materials are chipped away as any given packaging development emerges from its CAD file and is exposed to repeated production, distribution, marketing, and user realities, metamorphosing from shapeless feedstock to finished-for-now format, ready to repeat the cycle.
• More flexible packaging. Only a handful of packagers (Gallo Winery is one) make their own glass containers anymore. And the ranks of "own-use" canmakers have declined steadily in recent years. Many of those rigid container filling lines have been displaced by flexible packaging lines. There are no signs that this trend will be reversed any time soon.
• New packaging formats. If you are filling metal cans, your container design options are generally limited to cylindrical footprint, taller-than-wide, straight-walled silhouettes. Running glass, you'll pay a premium for non-stock designs. And in either case, deviating from a standard container may slow your filling line or penalize you by requiring packaging operation adjustments. With in-house flexible and semi-rigid packaging operations, the design and production of WYSIWYG package design options is both possible and practical.
• Increasingly sophisticated technology. In-mold decorating, thin-wall molding, nanotechnology, one step blow/fill bottling, direct to shape (DTS) printing, programmable robotics, and microcellular foaming are just a few of the advanced technologies that readily lend themselves to flexible in-house manufacturing.
• Economic and environmental sustainability. Packaging managers have always been driven by sustainability—economic sustainability, that is. And many have come to realize that sustainable packaging development and production of lightweight, less costly to ship and easier to open/reclose flexible packages can pay both economic and environmental dividends.
One persistent challenge of flexible packaging is its recyclability. Steel and aluminum cans, glass containers, even plastic bottles, are easier to recover and recycle than flexible packages. But an industry collaborative is working to increase flexible packaging recovery and recycling rates through a research initiative called Materials Recovery for the Future. "This research effort represents a first step in what will be a series of projects aimed at creating a mainstream recovery solution for flexible packaging," say the sponsors of the initiative, which include: Dow Chemical, PepsiCo, Procter & Gamble, Nestlé Purina PetCare and Nestlé USA, Sealed Air, SC Johnson, the Association for Postconsumer Plastic Recyclers (APR), the Flexible Packaging Association (FPA), and SPI: The Plastics Industry Trade Association (SPI).
The results of this study will begin to come in 2Q2016. An expected and intended consequence of the study will be to boost the economic and environmental sustainability credibility of the make/fill packaging model.