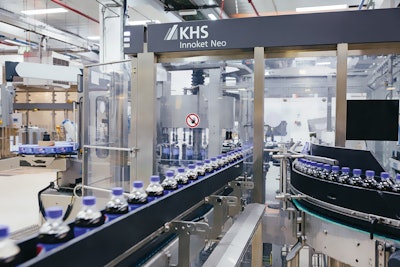 As Israel's biggest producer of alcoholic beverages and the nation's third-largest supplier of soft drinks, Tempo Beverages is a brand known to almost the entire Israeli population of 9.1 million. There's hardly a household in the country without a bottle of beer, water, juice, or cola from this firm, which is based in the city of Netanya between Tel Aviv and Haifa.
The firm keeps good company, too. Since 1990 it is PepsiCo's sole bottler in Israel. It's also Heineken's exclusive sales partner, and in 2005, 40% of the company came under the ownership of the Heineken Group. Then nine years ago, the beverage producer was made a licensee of the French spirits group Pernod Ricard. Tempo now clocks up sales of about $450 million, 45% of this with non-alcoholic beverages.
Predictably enough, the firm places great value on technological innovation when it comes to processing and packaging lines. That explains its longstanding relationship with KHS, the supplier of the new stretch blow molding and filling equipment recently installed. "We've trusted KHS for more than 35 years, and we value their technology," says Haim Neori, Electrical and Process Manager for Tempo. "It's undoubtedly some of the best there is for filling. However, we're just as happy with how professionally we're served by our KHS contacts on all levels."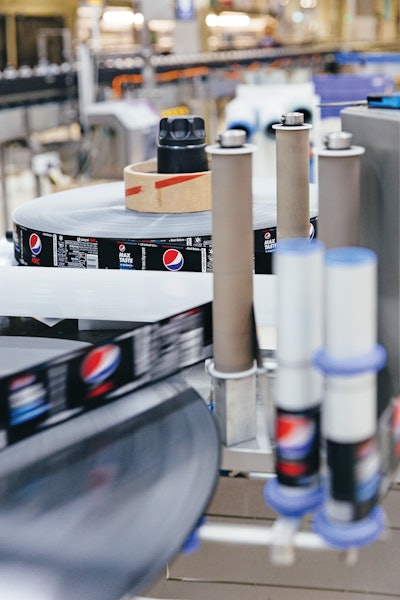 The most recent venture on which the two firms embarked centered on Line 12 in the Netanya facility. This is where Tempo fills its own mineral water and primarily Pepsi products—sugar-free Pepsi Max in particular—into non-returnable PET bottles. The line has now been replaced in two phases of construction. The first in 2017 focused on the packaging and palletizing section, during which an Innopack Kisters TSP with an integrated handle applicator and an Innopal PB palletizer with a capacity of up to 32,000 bottles/hr were installed. Then in 2020 the focus was on the blowing and filling section. A 25-year-old KHS filler with a maximum output of 18,000 bottles/hr and the old stretch blow molder from a competitor made room for the latest technology KHS has to offer: a stretch blow molder/filler block equipped with an InnoPET Blomax Series V and a modular Innofill PET DRV filler. An Innoket Neo roll-fed labeler and Innopro Paramix C blending system are also part of the line.
Notable about the InnoPET Blomax Series V are its energy-saving features, which reduce the carbon footprint of the bottle-making process. A new Double Gate heating concept based on NIR (Near Infrared) heating technology is said to yield up to 40% in energy costs. And with the Duo Cooling concept, two cooling circuits with different temperatures are generated through an external cooler. This saves energy and prevents any condensation from being formed on the molds. Plus, the EcoDry air management system supplements the efficient AirbackPlus air recycling system and reduces condensation on the base mold. This effectively combats the forming of condensation on the entire blow mold and helps to further improve machine hygiene. The EcoDry process also significantly streamlines the separate air drying process otherwise necessary in certain climatic conditions or does away with it altogether.
Challenging climate, limited space
Neori and his colleagues at Tempo naturally had the usual demands for quality, efficiency, and performance when it came to the new line. But there were additional challenges to be met. "It wasn't just a matter of enabling us to fill our carbonated products at up to 32,000 1.5-liter bottles an hour," says Neori. "A further requirement was that we could bottle at 20°C [68°F] using 9 grams [0.32 oz] of CO2 per liter."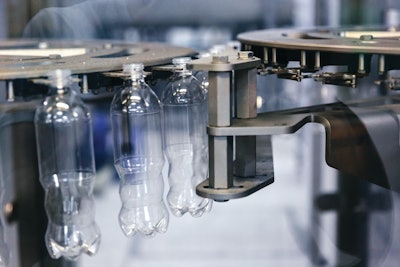 In view of the company's proximity to the Mediterranean Sea, high humidity levels, and ambient summer temperatures of 30 to 35°C (86 to 95°F), the products needed to be cooled for filling and then reheated to prevent condensation being formed in the packs. Another obstacle to be overcome was the restricted space. With a ceiling just 4 m (13 ft) high, individual adjustments had to be made in order to accommodate the line and clean-room air filters and to position the cap and preform infeeds. What's more, construction work in the limited area had to be reduced to an absolute minimum so as to keep interruptions to operation as short as possible. "KHS had the perfect remedy for each of these problems," says Neori.
With its new PET line from KHS, Tempo again lives up to its role as a pioneer. The stretch blow molder/filler block is the very first to combine a new-generation KHS stretch blow molder with a KHS filler. Another new path was also trod—after some initial hesitation—when it came to labeling equipment, as the Innoket Neo roll-fed labeler is the first such system installed by Tempo.
"By quoting a number of successful reference projects involving the same labeler, we were ultimately able to convince the customer that this labeler was the way to go," says Michael Roche, Head of Regional Center Middle East at KHS. "In the end Haim was full of praise for the Innoket Neo—he was really enthusiastic about how easy it is to operate and how smoothly it runs."
Productive even in lockdown
As in many other countries, the COVID-19 crisis threatened to sabotage the planned schedule in Israel, too. The country was one of the first to go into full lockdown—just as the engineers were about to ramp up the finished line. It quickly became clear that the KHS installation team was now stuck on site and that no new service engineers could be flown in—a situation that naturally caused some uncertainty as nobody knew how long it would last. After much consultation, the two parties mutually decided to carry on working. Tempo went to great effort to ensure that the KHS employees on site felt safe at all times despite them having to unexpectedly extend their stay. In light of Tempo's good care and support, the 12 people on the KHS team fully backed the aforementioned decision and made the best of the situation. For its part, Tempo used the time to have its employees trained by its guest engineers. And with the help of online courses, those employees reached a stage of development enabling them to quickly and independently solve any problems that might arise. Once the new line had been finally accepted in June 2020, the last KHS engineers left in Netanya were able to travel back home.
Despite the adverse circumstances, production resumed on Line 12 just seven weeks after the old filling setup was shut down. The planned increase in capacity to 32,000 bottles/hr was also realized in the previously "underutilized" packaging and palletizing area, enabling the agreed-upon overall equipment efficiency of 92% to be already surpassed during the acceptance test.
Accordingly, Tempo is very much the satisfied customer and already looking to the next joint project: a KHS canning line with a maximum output of 40,000 cans/hr. When asked what else his company is planning for the future, Tempo Deputy CEO Daniel Beer replies, "We have to react to the significant changes we're noticing in consumer behavior. We're doing this by strengthening our core brands on the one hand and investing in innovation on the other—either by expanding our product range, introducing new brands, or coming up with new forms of presentation."
This is a sign that, from a packaging machinery perspective, Tempo can be counted on to press the limits in the future.

Companies in this article