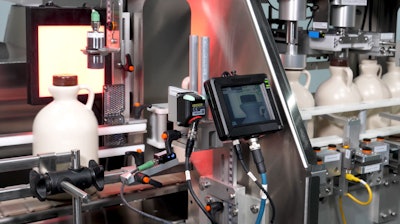 Nokomis Maple Products of Trois-Pistoles, Quebec, Canada, works with more than 100 maple syrup producing families who, generation after generation, carry on a profession that they learned from their ancestors. The Bas-Saint-Laurent these families call home is characterized by a harsh climate and sugar maple forests of remarkable purity, and it's one of the most northerly places in the world to produce maple syrup. With this quality of raw ingredient, Nokomis says it offers its customers the guarantee of a real product from Quebec.
---
| | |
| --- | --- |
| | Watch this video of the Secure Chuck Capper from BellatRx, installed at Nokomis Maple Products. |
---
To deliver that quality product to end consumers, Nokomis offers its private label, store brand, and foodservice customers a range of container sizes. Offerings span from glass bottles with integral handle between 189 and 250 mL, "solitude bottles" of 250 mL, and larger PP jugs between 500 mL and 1 L. Depending on bottle size and application, PP caps from Berry Cap, Pano Cap, Mold-Rite Plastics are used to close the bottles. But recently, problems arose with the automated application of those caps and closures.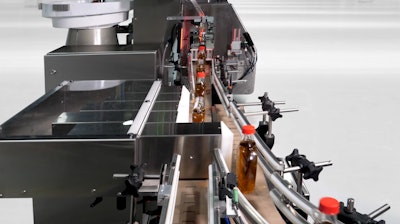 Solving for capping inefficiency
The company uses a filling machine with six volumetric filling heads. While the same amount of syrup is filled to each bottle during any given production run, there's a natural, bottle-to-bottle variation in fill height that is explained by slight differences in the containers' internal volumes. And while that shouldn't necessarily create a problem, Nokomis operators were seeing a lot of rejects—more than 5%, in fact—due to an inefficient spindle capper used to torque on the caps that sits directly downstream from the filler. The legacy capping system's six mechanical closers and two pneumatic clamping wheels left little room for operators to measure or make adjustment to address the problem.
To bring that high reject rate down to acceptable levels, Nokomis operators researched several potential capper application suppliers, eventually meeting with three machine builders to make the final selection. The company decided to replace the old capper with a Secure Chuck Capper from BellatRx, who immediately won Vince More, VP at Nokomis over with "an impeccable welcome, a solid experience for this type of machine, the fact that the Secure Check Capper is very compact, easy to adapt for changeovers, and [exhibits] excellent reliability," he says. Plus, he adds, it's easy to operate.
As part of the installation, Nokomis also specified a camera inspection system to inspect both cap placement and fill level. A vision system is implemented to detect any capping discrepancies and reject them. 100% of cap inspection is done before bottles are allowed to leave the capper conveyor. Additionally due to the ability of the vision to see the fill level, Nokomis implemented a fill level verification to capture discrepancies from the filling as well.
Nokomis also added an automatic, progressive reject system. Nokomis operators believe they arrived at the ideal solution for rejecting missing-cap bottles that can easily tip over and contaminate the whole packaging line with sticky, viscous maple syrup. The key was the ability to reject non-conforming bottles, whether due to cap application or fill level variance, without causing the containers to tip over and spill their content. The progressive reject system was developed and implemented to meet this challenge.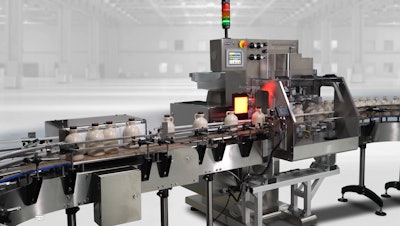 "Previously, all rejection detection was done at the end of the line during the final quality control," More says. "From now on, this automatic rejection system allows us to remove from the line a large part of the bottles with defects and improves the quality of the finished product. It is as if we had added another step of quality control. This avoids many problems downstream, especially at the inversion stage, because most of the bad caps are removed during this check."
Also, within the system, recipes and setup charts were developed for the customer's formats. Discrete locations for tooling are incorporated to avoid the need for "tweaking" during setup. By snapping tooling into place according to the charts provided, operators are ready to go in less than 15 minutes, often in less time.
Conveyors were designed to withstand periodic washdown. All bottle handling and transfers were carefully designed not to cause any bottles tipping, which would cause a spill and lengthy downtime for cleanup.
The new capper fits directly into the existing line, with downstream automation including an induction sealer from Sigma CapSeal, an inverting machine from Geninox, labelling equipment from Procepack, and coding and marking from Leibinger.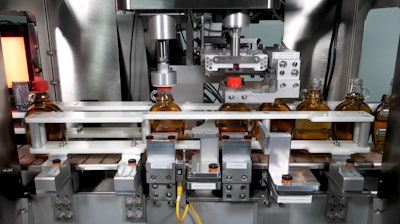 Results boost production, morale
The new installation has resulted in very little rejection, less than 1%, compared to the previous spindle capper. Based on this, More says Nokomis has increased daily throughput by 20%, and now has the potential to increase another 20% over the next year. Perhaps more importantly, the company is now able to relocate employees to other areas of the production floor instead of constantly monitoring a high-reject closure applicator and cleaning up after the attendant messy spills.
"There's a global workforce challenge," More says. "The employees are affected by this rework. They are less stressed and feel that they are delivering a better-quality product to his/her colleagues in charge of quality control. There are fewer repetitive operations, less risk of injuries related to repetitive tasks, and increased self-esteem for the technician who feels he/she is adding more value to the organization." -PW
Companies in this article