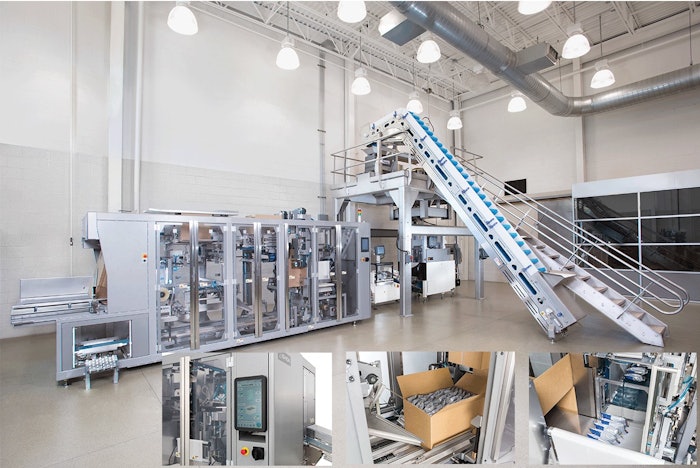 For meat, poultry, seafood, vegetables, and a growing menu of other prepared foods, Heat and Control builds a complete range of equipment for coating application, cooking, grill marking, and searing solutions. Snack food processing is another specialty. From unloading raw produce to frying, conveying, seasoning, packaging, and inspection, the firm provides all the equipment and services required to make the highest quality snack foods while achieving higher capacities and lower production costs.
On the packaging equipment side, one notable highlight at PACK EXPO Connects was the automatic case packer ACP-700 Series (shown here), which offers production efficiency not experienced to date. It provides additional flexibility, enhanced line communications, and easy operator interface while significantly improving the changeover cycle of case packing.
Ideal for the snack food case packing industry, which has been asking for effective automation and communications between the weigher, bagmaker, and case packer, this end-of-line solution significantly improves efficiency and performance.
With the case packer's controls system's feed-forward and feed-back features, the flow of bags is more measured and controlled. This reduces bottlenecks by continuously adjusting settings as bags are running through the system.
Utilizing feed-forward communications to the case packer and feed-back communications to the bagmaker and seal checker continuously monitors fill level and compares bags to the targeted value. So the case packer can automatically optimize the machine operation appropriately, as well as check for leaking bags. This helps to maximize cooperation and to deliver stable operation.
Changeovers have been an area where improvements need to be made, especially when it comes to changing pack patterns and associated down-time. The loss of production time to perform changeovers has been a thorn in the side for some time as well as the operator labor that is associated with it. The ACP-700 Series can perform a 3-minute changeover that is achieved by removing the requirement for tools or changeover parts. Plus, the removal of a troublesome vacuum system usually required for bag handling, further minimizing production downtime.
Improvements in controls systems also influence the speed at which a changeover can be made and is achieved in part due to automatic adjustment capability. The operator can easily change the bag count per row or row per case by setting the value in the Human Machine Interface (HMI).  Change of timing values and mechanical adjustments is made automatically, no operator manual adjustments are required. Further, with the ability to hold up to 200 presets via the large HMI, the operator experience is considerably simple.
Elsewhere on display at the Heat and Control PACK EXPO Connects show room were the many packaging solutions offered by Heat and Control partner Ishida, including its ultra-precise Computer Combination Weigher (CCW). Whether it's entry-level or advanced equipment, Ishida can provide the exact match for what is required. Fast and accurate filling systems keep portions under control, too.
PACK EXPO Connects – November 9-13. Now more than ever, packaging and processing professionals need solutions for a rapidly changing world, and the power of the PACK EXPO brand delivers the decision makers you need to reach. Attendee registration is open now. 
Other specialties from Heat and Control include conveying solutions for product accumulation, plus chip-sizing equipment, too. Not to mention horizontal motion conveyors and feeders as well as incline, belt, and bucket conveyors.
Rounding out the firm's broad range of equipment on display were X-ray and metal detection solutions, controls and information systems, and seasoning solutions.
For more on what Heat and Control is highlighting at PACK EXPO Connects, go here https://peconnects20.mapyourshow.com/8_0/exhibitor/exhibitor-details.cfm?exhid=02002392
Companies in this article