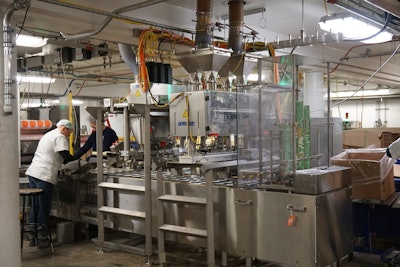 Crest Foods may not be a household name, but some of its customers most certainly are. Located in Ashton, IL, family-owned Crest co-packs 1.5 million cases per month of dry food products—among them brownie and cake mixes, oatmeal, macaroni and cheese, mashed potatoes, and rice side dishes—for some of the world's largest Consumer Packaged Goods companies as well as for private-label customers. These products find their way into supermarkets, foodservice operations, and club stores such as Sam's Club and Costco.
Crest also produces a stabilizer mix for dairies that can be found in 85% of the cottage cheese and sour cream products in the country. But its largest business, by far, is its co-packing operations, which occupy 500,000 sq ft of its overall 750,000 sq ft of manufacturing and warehouse space, across two buildings. In addition, 500 of the 750 people it employs work on the co-packing side.
The company can fill dry products in packaging that includes vertical, horizontal, and stand-up pouches, pouches in cartons, direct-fill cartons, microwavable cups, and shake-and-pour bottles.
Between its two sites, Crest has 30-plus packaging lines, defined by Systems Engineer Jared Stumpenhorst as the floor space for 30-plus lines. "It's not a fixture of the equipment," he explains. "There's floor space, and in that space, we can configure equipment in whatever way the product we're running dictates."
But there are exceptions. Eight of those lines are permanent, with some having been installed to run jobs for specific customers that have guaranteed long-term business and others for specific product/packaging types. In 2015, Crest added a full line for filling cups of dry foods, including oatmeal, hot cereals, soups, mashed potatoes, and macaroni and cheese, a move Stumpenhorst says was somewhat speculative: "We thought we needed to branch out into some different packaging formats. Because some of our customers were asking about microwavable cups, we decided it made sense strategically to invest in the equipment to fill the cups.
"So we put in a 100 percent-new cup filling line. We probably had about 25 percent capacity committed at that point, but our ownership believed we could grow and fill that line. And we have." So satisfied was Crest with the packaging line, once it reached capacity, they purchased a second in 2018 equipped with the same machinery as the first.
Cup filling four-up
In selecting the equipment for the cup-filling line, Crest turned to 30-year partner and supplier Spee-Dee Packaging Equipment. Crest has approximately 70 Spee-Dee auger fillers and volumetric cup fillers installed at its facilities and has just begun acquiring a number of Spee-Dee's new Evolution checkweighers. Stumpenhorst says Crest relies on Spee-Dee equipment because "you get sophisticated results from a simple design." He adds, "Their fillers are very intuitive, they're easy for operators to use, and they are reliable. From an equipment standpoint, that's super important."
For the dedicated cup filling line, Crest had specific requirements in the areas of filling speed, flexibility, and operator and food safety. The speed requirement was driven by the downstream cup-sealing machine. Working backward from that, Crest determined the Spee-Dee equipment needed to fill 160 cups/min. Since Crest offers three cup sizes, the system also had to be able to accommodate different diameters. And, in regards to safety, Stumpenhorst says Crest is always looking for equipment that reduces the risk to employees and that won't harm the end consumer.
The first and second line both feature four lanes, with cups filled via Spee-Dee's CM/CMS-style volumetric cup-filler configuration, followed by a 2850 Quad auger filler. The CM/CMS is used to fill particulates—in the case of Crest, that includes products such as oatmeal and macaroni noodles. The Quad auger filler handles powders and granulated products, for example, the anti-boil powder for mac and cheese.
According to Rick Chrzan, Regional Sales Manager for Spee-Dee, the CM/CMS comprises two cup fillers, with two drops per filler, synchronized to fill four cups simultaneously by one servo drive from Bosch Rexroth. As he explains, the "M" in CM stands for multiple-drop filler and the "S" in CMS represents the servo drive. Thus, the system has two multiple-drop fillers belted together underneath, and when the servo drive indexes, it indexes both plates on both of the fillers so they drop product in unison.
The 2850 Quad auger filler features four augers in one, elongated hopper. "So you have four separate servo drives that drive each drive shaft in each auger the required number of revolutions to dispense the right amount of product," Chrzan says. "With the servo drive, you can start, stop, accelerate, or decelerate to make sure you've got the exact speed and get the right accuracy of product into the container. And again, those four servo drives are all connected together and timed so they all dispense at the same time."
Notes Stumpenhorst, being able to use the two systems for a four-lane line allows for a very compact and concise footprint. While the Spee-Dee fillers are capable of faster speeds, the Crest lines move at a respectable 40 cups/min/lane, for 160 cups/min for the line.
New weighing equipment proves accurate
Given its experience with Spee-Dee, Crest was open to adding the company's Evolution checkweigher—a new equipment category for Spee-Dee—to the 2018 cup-filling line. At presstime, Crest had installed four of the machines at its facility overall, with eight more on order, expected to be installed within the next 10 to 12 weeks. These checkweighers are replacing existing ones at the plant, Stumpenhorst says, because with most checkweigher companies, their models are obsolete in two to three years. "You're in a constant cycle of upgrading, and you can never stay caught up before they're phasing out their latest version," he says. "With our experience with Spee-Dee and their fillers and the fact that they are taking the same approach with their checkweighers, that was very attractive."
The Evolution uses Magnetic Force Restoration (MRF) technology within the load cell that Spee-Dee says guarantees precise and reliable weight measurement. Says the company, "MRF technology is up to 10-times more accurate than strain gauge load cells, which improves performance with no reading drift." The checkweigher uses PLC-based, non-proprietary controls, which allows for easy calibration in the field and the ability to interface with other plant communications systems.
Says Stumpenhorst, "The Evolution checkweigher uses different load cells that typically would be seen in more of a pharmaceutical-type application where you have to have really finite accuracy with your weights. And to get those types of load cells from their competitors is quite a bit more expensive than what Spee-Dee is able to offer. The accuracy is significantly above their competitors' checkweighers in the same price range. It has a simple design and is very intuitive, like their fillers, and it uses a similar interface."
From raw material to finished product
When tracing the entire filling line from raw material to finished product, the packaging operation starts in Crest's "dump" area, located one floor above the filling line. Here, operators dump particulate product such as pasta into a hopper that leads to an auger feeder that moves product to the volumetric cup filler below. Powdered product is dumped into another hopper connected to an auger feeder that supplies the Spee-Dee 2850 Quad auger filler with product. These systems, including the controls, panels, and wiring, have been engineered in-house by Crest, with some assistance from automation equipment designer and manufacturer F.N. Smith Corp.
The line begins with the CM/CMS volumetric cup filler, which drops particulates into the four cups below, delivered by a Holmatic cup conveyor from R.A. Jones. At the next station, the powdered product is added to the cup via the Quad auger filler. Says Stumpenhorst, 85% of the time, Crest uses both fillers. For products such as oatmeal, there are times when only the cup filler is needed.
Following filling, operators manually add any additional product ingredients that have been prepacked, such as the powdered cheese for macaroni and cheese. After that, the cups are sealed with lidding film on an intermittent-motion, four-up cup sealer from Edge Automation Inc. For the first line, Crest installed a used machine refurbished by Edge; for the 2018 line, Edge built the equipment from the ground up. Once the cups are sealed, they are conveyed in single file across the Spee-Dee Evolution checkweigher on a Nercon conveyor, after which they go through an X-ray machine supplied by Thermo Fisher Scientific that inspects for metal contaminate.
Next, a system built by Crest and utilizing Cognex vision sensors scans a barcode preprinted on the cup to verify the right packaging material and product is being run. Some products are sold as individual units, while others are sleeve-wrapped in counts of two or four using equipment supplied by Edge. For the latter, another scanner reads a barcode printed on the outer sleeve just before it is applied to the multipack. Cups also get a date code, printed by a Keyence printer on the bottom of the cup.
Finished product is manually packed into corrugated cases, which are printed with a barcode using a Foxjet ink-jet printer. A case taper from Wexxar Bel then seals the shippers.
An eye to the future
Just as Crest kept tabs on the developing market for microwavable cups so it could invest when the time was right, it is now keeping watch on some of the consumer trends toward healthier products and even greater convenience to see where new opportunities might lie. "As we look to the next five to 10 years, we're trying to understand the shifts in how people are eating and what they are eating versus short-lived fads or trends," shares Stumpenhorst.
Whatever its direction, the company will be sure to include Spee-Dee in its considerations. "Our experience with them has been phenomenal," Stumpenhorst reports. "Their company culture and values seem aligned with ours. The level of trust and respect both companies have for each other truly has made the relationship more like a partnership than just a transaction."
Companies in this article