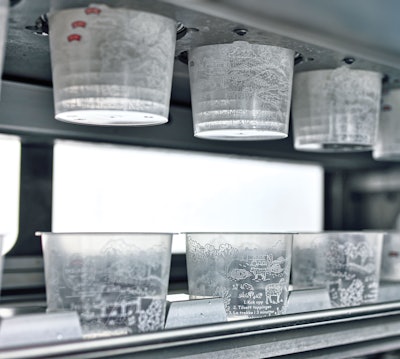 MatBørsen AS of Stokke, Norway, was founded in 1994 by Freddy Henriksen and his two sons. One of those sons, Dag Freddy Henriksen, runs the company today, and his son, Freddy Andre Henriksen, is the Controller. In 2012, the firm was taken over by NorgesGruppen ASA, a development that, says Freddy Andre, "gave us the muscles to grow."
Building on their previous success in meat products, MatBørsen lately has focused a good deal on the growing segment of ready meals. Soup, too, has been an emphasis at the firm, which led to the 2017 installation of a new packaging line for an innovative four-part, snap-together soup package produced exclusively for the Meny chain of supermarkets in Norway.
The idea for this package format dates back to IFFA 2016, a leading international trade fair for the meat industry that is held every three years in Frankfurt, Germany. That's when Freddy Andre encountered Dutch injection molder Naber Plastics and began exploring the possibility of a new single-serve solution for an existing line of ready-to-eat soups. At the time, MatBørsen supplied the soup to supermarkets in 2-kg (4.4 lb) pouches and in-store personnel served it to consumers in individual portions. The portions were poured into a plastic cup by the store operator, who then placed on top of the filled cup a plastic container holding fresh ingredients chosen by the consumer. Then on top of this container a plastic lid was snapped on.
A downside to this approach, however, was that due to the limited shelf life, any remaining soup in the bulk packs had to be thrown away just three days after opening them. Also less than optimal is that MatBørsen was only able to package the soup after cooling it down for a while, normally one full day after preparation.
Shortly after Freddy Andre left IFFA 2016, Naber Plastics started designing a new portion pack that could be filled by MatBørsen, thus replacing the bulk-style pouches. Simultaneously, Sealpac went to work on the necessary sealing and lidding technology for this new single-serve package format. "During this project, our communication with both firms was direct and easy," says Freddy Andre. This proved especially important considering how unique this particular packaging concept turned out to be, he adds. "For example, the snap-on components had to be suitable for application by an automated system here in our plant, plus we had to be assured that these components would not come off during transport. Yet they also had to be easily removed at retail. Designing that kind of lidding system was quite a challenge."
Four components
Before looking at the packaging equipment required to get this product from the MatBørsen plant to the 200 or so Meny supermarkets spread across Norway, it helps to look at the four components of the new pack:
• Injection-molded PP cup that is 77 mm (3.03 in.) deep and holds 440 mL (11.16 oz) of soup. Naber adds an in-mold label on which is printed instructions on how to prepare the soup. Consisting of PP and EVOH, the label brings an element of oxygen barrier to the package.
• Flexible film lidding that is heat-sealed to the cup after filling; a polyester/PE/EVOH/PP construction, it's supplied in rollstock by Supravis Group.
• A PP Fresh Ingredient Container, injection molded by Naber, that is 37 mm (1.46 in.) deep and is injection molded with features along the bottom that cause it to snap firmly over the top of the soup cup
• An injection-molded PP lid, also from Naber, that snaps over the Fresh Ingredient Container
In the store, the store operator removes the PP lid from the Fresh Ingredient Container, puts fresh ingredients in the Fresh Ingredient Container, and puts the PP lid back on. If the item doesn't sell in three days, the store operator prepares a new Fresh Ingredient Container and snaps it into place.
And now for the packaging operation. Actually, it's more appropriate to look first at the final steps of the processing operation. No longer does the soup need to cool for a day prior to packaging. Now the soup is prepared in a tumbler, pumped into a cooling system, and packaged at 4 to 6º C (39.2 to 42.8º F) after just one hour. Furthermore, the soup is sealed under Modified Atmosphere Conditions as CO2 is added, thus reducing the residual oxygen level to below 0.4%.
Thanks to the new approach to processing and packaging, the soup now has a refrigerated shelf life of 30 days, a considerable boost over the three-day shelf life provide by the 2-kg bulk bag approach. Says Freddie Andre: "By modifying our processing methods and taking a new approach to packaging, we've been able to significantly increase the shelf life of our product. And from a solid waste perspective, we use about the same amount of material. The cost of the packaging material also stayed about the same."
Packaging is automated
As for the packaging systems involved, it's largely automated and done on an intermittent-motion basis five cups per cycle. It starts with a Sealpac AS-LS1200 denester that uses vacuum cups to pull five cups per cycle from five overhead magazines filled with nested cups. The cups are drawn straight down and placed in the pockets of Sealpac's walking beam system, which leads to a five-nozzle volumetric Leonhardt filling system.
Next is heat-sealing of the roll-fed flexible film lidding material, which is done in a Sealpac A7 tray sealer with five-impression tooling. Just before lidding is applied, the five single-filed cups pause in a station where ambient air is evacuated and replaced with C02. It's this Modified Atmosphere Packaging that helps give the cup of soup its 30-day refrigerated shelf life.
Now the sealed, single-filed cups are transported five per cycle to a magazine-fed Sealpac DA-M770 system that snaps on the empty Fresh Ingredient Container. Shortly after that, a second DA-M770 lidding system places a snap-on lid onto this container, again five per cycle. Finally, the fully assembled four-part package goes through an x-ray inspection system from Elprom. Each cup also has a pressure-sensitive label applied on the bottom by a thermal-transfer print-and-apply labeler from European Labeling Systems. Printed on this label is information about the ingredients and a best-if-used-by date. A second ELS labeling head puts a pressure-sensitive paper label on the top lid, too, that identifies which of five soup varieties is in the cup.
Robotics
Handled robotically, secondary packaging is done by a system from Sealing System. It picks one cup at a time by way of vacuum suction cups and mechanical grippers. It places six into a paperboard carton that is erected by a CI-1000 system from Lantech. Each carton runs through a Model CS-3000 top-and bottom taper also supplied by Lantech. Then a thermal-transfer print-and-apply labeler from Lexit Group applies a date code label to the top of each carton. Palletizing is also done robotically, as an Okura system was installed for this task.
Which brings us to the part where consumers get the soup home. There they snap off the Fresh Ingredient Container from the soup cup and remove this container's lid. Then they remove the flexible film lidding on the soup cup by means of the easy-open peel tab and pour the soup and fresh ingredients into a pot for stove-top heating. In just three minutes, the soup is ready to be eaten. The container is also suitable for heating in the microwave oven, says Freddy Andre.
"After introducing this new format, our production volume for soups initially decreased, but this was the result of less food waste at retail compared to the previous bulk packs. Remember, with the bulk bag we only had that 3-day shelf life once the bag was opened. Now, we are back at our normal volume and still growing. We are currently producing four different soups, where our best-selling product is our delicious fish soup. We produce 50,000 units of that soup per month." The containers sell for about €7 ($8.00).
Considering how well the new format has been received, Freddy Andre believes it's only a matter of time before more Sealpac lines are needed.
Companies in this article