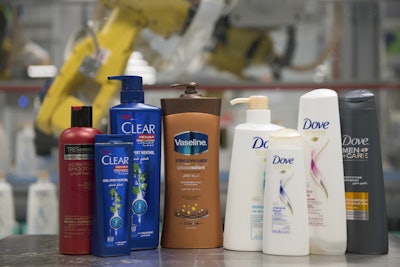 The Middle East-African market has become a target for billions of dollars of investment by those global Consumer Packaged Goods companies in the beauty and personal care space looking for growth opportunities. According to market research firm Euromonitor, over the next five years, this area is expected to be the fastest-growing region in the world for such products, due to young populations and rising levels of spending in many Middle East-African countries.
In December 2016, Paul Polman, CEO of Unilever, inaugurated the company's $250 million Dubai Personal Care (DPC) manufacturing facility in Dubai Industrial Park, United Arab Emirates. The largest personal care liquids manufacturing plant in the Middle East-North Africa (MENA), the plant spans approximately 328,000 sq ft and is equipped with "state-of-the-art technology which, combined with a modular design, ensures faster, shorter, and highly responsive production lines that cut lead time to market by 80 percent," according to Unilever. "The lines are additionally highly flexible to match market demand, while delivering the highest levels of product quality and safety," the company adds.
Acknowledging that the UAE is a strong trade corridor that connects the East and West with significant growth potential and a world-class infrastructure, Unilever has chosen the slogan "Made in the UAE" for its DPC products. Produced and packaged at the plant are haircare and skincare brands that include Dove, Fair & Lovely, Lifebuoy, Vaseline, Clear, TRESemme, and Sunsilk. Each year, the Dubai plant produces 500 million items, or 100,000 tons of liquid product.
In equipping two bottling lines for its shampoo and conditioner products in shaped bottles, Unilever looked to Gebo Cermex for end-of-line machinery for product collation, shrink bundling, case packing, and palletizing. Gebo Cermex was chosen for its engineering and robotics expertise as well as its ability to combine and customize existing solutions to meet Unilever's individual specifications.
Given the complexity of the project, Gebo Cermex faced some challenges in meeting Unilever's expectations for the equipment. The machinery needed to handle shaped containers in eight sizes, from 100 to 900 mL, at speeds to 350 bottles/min, while achieving a maximum 10-min line changeover with multiple changeovers per day. Says Jean-Philippe Beduneau, Strategic Key Account Director for Unilever at Gebo Cermex, "We have a unique capability to propose complete end-of-line solutions for unstable bottles or bottles with complex shapes that do not allow for mass flow accumulation. …Our existing portfolio is able to respect the specifications typically linked to shaped, unstable bottles. Nevertheless, in the Unilever case, their expectations about line speed and maximum time for changeovers challenged our design department to stretch the boundaries of the current range and merge modules and technologies like we never have before."
According to Gebo Cermex, in general, when it comes to shaped-bottle handling as part of end-of-line operations, the most critical point is at the batch collation level. Gebo Cermex accomplished this task on Unilever's lines by using a team of six Fanuc M-10iA six-axis robots on each line coupled with its FlowDesigner flow management and product tracking software. During operation, filled and labeled bottles are conveyed in pucks in two lanes—one on either side of the infeed conveyor of the shrink bundler. When the bottles reach the machine, the FlowDesigner software forwards the information to the six robots, which gently pick the bottles from the pucks and place them onto a conveyor in specified collation patterns.
A single, universal gripping head is used on each robot to simplify changeover, which is handled directly from the HMI without the need for manual intervention. The end-of-arm tooling comprises a lightweight, 3D-printed vacuum head with three suction cups that are adapted to all eight bottle shapes. According to Beduneau, because the tooling is constructed of an agglomerated polymer, it is much lighter than tooling made from steel or stainless steel. "The overall payload—including the tooling and batch of products—is consequently lighter, allowing for the selection of a smaller robot, with a lower payload capacity," he explains. "Because the robot is smaller, the footprint and the energy consumption required are also reduced."
Once collated, bottles are conveyed into the compact Gebo Cermex TW shrink wrapper, which operates at speeds to 330/min. To ensure easy, high-speed changeovers and improved operability, the shrink wrapper uses a limited number of product transfers adapted to shaped or unstable bottles and can process from one to three lanes of products with a single film reel.
From there, the shrink-wrapped bundles are carried to the infeed of the Gebo Cermex AN70 case packer, equipped with a gantry robot, also manufactured by Gebo Cermex. Each bottling line handles eight case sizes, for 16 in all. To meet Unilever's 10-min changeover request, the company upgraded parts of its existing AN70 range, employing quick-release systems for tooling. The top-load case packer operates at 40 cases/min and can load three cases at one time. The system also includes automated case erecting and sealing.
Sealed cases are then carried to a palletizing cell—there is one for each bottling line—where they are palletized using a Gebo Cermex Pal Pack 4750 automatic layer-by-layer high-level palletizer. The equipment features fully automatic changeover and a shock-free, electronic spacer infeed system that ensures product protection at the layer preparation stage. Each palletizer operates at 40 cases/min, or 29 pallets/hr.
Eight bottle sizes are packed on each of the two lines.
Products are collated for shrink bundling using six pick-and-place robots with 3D-printed end effectors.
Watch a series of videos on the operations.
Read Part II of Packaging World's Robotics & Automation Special Report, "Robots prove their mettle."
Companies in this article