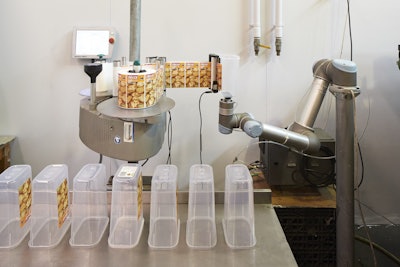 Based in Melbourne, Australia, Prysm Industries Pty Ltd. is a 45-year-old, family-owned business at the forefront of the country's plastic injection-molding industry. Over the years, Prysm has developed a strong reputation in molding biodegradable plastics and food-grade packaging. Its products include garden parts, ice cream containers, and houseware containers for some of the largest companies in Australia.
For a medium-sized business such as Prysm—the company has 30 employees and runs three shifts, 24 hours a day, six days a week—it can sometimes be a challenge to provide a high-quality product while also keeping costs down. With many of the items produced at Prysm headed for some of Australia's largest retailers, several years ago the company began looking for an automated solution that would ensure its product's consistency and accuracy.
"One of the challenges we faced was that some of our products required an adhesive label, which required our operators to put on a new label every five to six seconds," explains Prysm General Manager Matthew Murphy. "We were looking for an automated solution that would reduce costs, apply the product label more consistently, and free up our operators. We met with a Universal Robots distributor, and they helped us find the right robot that would be able to be flexible but also carry the payload that we required."
Prysm selected Universal Robots' lightweight UR-5 collaborative robot arm. With a payload of up to 5 kg, the UR-5 easily handles the company's 300-g plastic containers. Prysm is using the robotic arm to perform labeling tasks for its houseware production line.
"The UR-5 picks up the product from an outgoing conveyor, orientates it in front of a labeler, and, depending on the shape of the container, whether it be round or flat, will rotate or move across the labeler, and then place the labeled product onto an outgoing table for our operator," says Murphy.
Prysm uses an Avery Dennison ALS 204 labeling system to apply wraparound labels to round containers; for tall, rectangular products, it applies labels to one side of the container. A 24V output from the UR-5 acts as a sensor to trigger the ALS 204 to dispense a label when the robot holds a container up to the applicator.
"Since we have implemented the UR-5, we've seen better product consistency, specifically in the label," Murphy relates. "It has also freed up our operators to operate more machinery, and by doing that, we're saving around about 500 dollars a day [approximately US$317], which has led to paying back the robot within 12 months."
The UR-5 has been engineered so that it can be reprogrammed and deployed for other tasks in a matter of minutes. An easy-to-use, intuitive graphical user interface with a free-drive function enables an operator to reprogram the robot by either grabbing the robot arm to set the waypoints in the program and show it how a movement should be performed, or by using arrows on the touchscreen. The interface then allows staff to drag and drop the routines to do their programming. The interface has a simple layout and uses non-technical language. According to Murphy, it takes Prysm about 45 minutes to load a program, set the new pick-up positions, load the labels, and have the robot running perfectly.
In contrast to traditional industrial robots, which can weigh from 100 to 200-plus pounds, the UR-5 is compact and weighs just a little under 40 lb. And with a small footprint of only three square feet, the UR-5 can be moved around the production floor, mounted, and set up without requiring changes to the existing layout. The robot can also operate safely alongside staff, subject to a risk assessment, with the robot's force-limit safety feature automatically stopping the robot from operating when its movement is obstructed.
"The flexibility of the UR-5 is its best feature," Murphy says. "It can fold in on itself and operate in really tight spaces." About every two to three weeks, Prysm moves the robot and labeler to another injection-molding machine. When the robot isn't labeling containers, Prysm often uses it to pick finished products from a conveyor and stack them into cases.
According to Murphy, installation of the UR-5 has resulted in multiple benefits. He says, "I've seen an increase in our staff's job satisfaction. They've been freed up from any monotonous tasks, which has allowed them to move around to different machines. They really enjoy watching the UR-5 robot and feel a real sense of satisfaction when they learn how to program it.
"The UR-5 has been a real point of difference for us. Our customers really enjoy coming in and seeing it operating. It's led to a lot of new business, as it shows that even a medium-sized business like ours can be on the forefront of technology. We plan to implement a second UR-5 very shortly to help with basic assembly tasks, and we look forward to implementing a third one soon after."
See all case studies in Part I of the Robotics Special Report.
Companies in this article