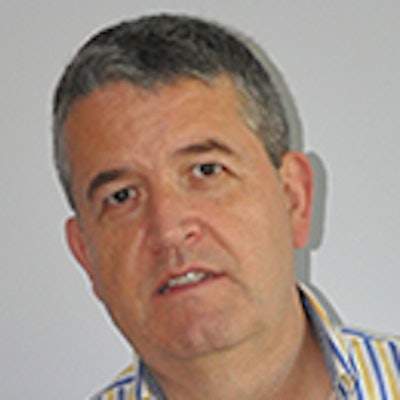 Now it's time for brand owners, converters and package designers to put the tools to work and create corrugated packaging that delivers on the consumer experience.
"With the arrival of high-performance digital corrugated printers," says Sean Smyth, "you get the same performance as flexo with the added bonus of customization on the fly at process speeds, and a chance to shine creatively."
Smyth is a print technologist with Smithers Pira. He has a PhD in chemistry and has worked both in ink, printing and packaging in a variety of technical roles. He will be sharing his many years of expertise next month in Chicago June 4-6 at Digital Print for Packaging 2018.
"For the past seven or eight years," Smyth continues, "the conference has moved beyond the technology to explore the business opportunities to all players in the supply chain. This year it's all about creative marketers pioneering new frontiers, helping brands delight their customers."
Smyth isn't just suggesting that you could offer up a customized message on the outside of the box. Imagine opening up the box containing the next book you ordered, and in the box is a list of suggested titles, or an invite to an author signing.
E-commerce, of course, is all about maintaining a customer brand experience with the opening of the corrugated box. Digital ink jet offers up endless varieties of colors, graphics, and customized text, based on order or member data.
And digital ink jet will work together with box-on-demand systems that collect scanned info from each ordered item and prepare just the right size box to eliminate unwanted packing waste. That same custom carton can carry custom messaging, team colors, holiday greetings, special club member offers.
"In flexo printing, pre-press set up is everything and the ink is very inexpensive," explains Smyth. "With digital it's the opposite. Set up is (virtually) nil, the ink is expensive."
Creative designers can reduce ink coverage from 80% to 20% with creative applications stretching from a personalized e-commerce boxes delivered to your home, to messaging on point-of-purchase bulk shipping trays that break down to become shelf displays. Production costs end up being less expensive.
"Imagine an endless parade of shelf trays in vivid colors, seasonal graphics, anything you can dream up, in the grocery aisle" says Smyth.
"This technology invites a different mindset" suggests Smyth. "The opportunities for brand owners, converters, pre-press and package designers are incredible." And of course, Smyth looks into the future and sees major players, especially in e-commerce, pushing the envelope on data-rich customization using digital printing.
Interested in checking out the agenda for "Digital Print for Packaging? Click here.
A brief history of digital printing in packaging

"Digital printing entered our lives roughly 25 years ago," says Sean Smyth from Smithers/Pira. "Early adopters included printing for books, magazines and direct mail. But the digital print industry did not really know much of anything about packaging," according to Smyth.

The industry first saw some opportunity in packaging with digital printing of pressure-sensitive labels, but barriers to large format high-speed production included a limited range of substrates, problems associated with the weight and thickness of cartons, etc. Even after the technology evolved to be able to deliver acceptable results consistently, presses were not big enough to handle applications like larger cartons.

"With the latest advances in digital print, however, these limitations have been removed," says Smyth, a print technologist.

"The digital print for packaging market is poised to help launch a design revolution in point-of-purchase shelf trays and customized e-commerce corrugated boxes," predicts Smyth. "The next generation of subscription products will arrive in a box focused on the recipients, not just the contents. And it is not just corrugated as converters take delivery of high performance digital carton and flexible packaging presses."

Smyth will be sharing his years of experience at a Smithers/Pira event, Digital Printing For Packaging 2018, in Chicago June 4-6.

Click here for more information: Enter discount code PMMI18