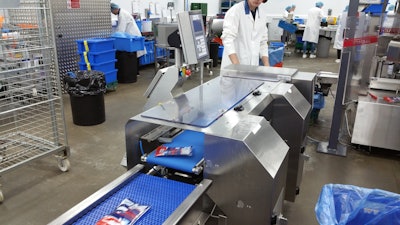 The meat snack segment, valued at $2.8 billion in the U.S. in 2017, has seen sales grow consistently year on year by 7%. It's a similar picture in Europe, with analysts at Ireland-based Research and Markets predicting sales of meat snacks in Europe could reach US$4.59 billion by 2025. "The demand for meat snacks in Europe is expected to increase rapidly as the market is still in its nascent stage," the company notes.
For Meatsnacks Group, which commands 78% of the local U.K. market share, the rising popularity of its premium low-fat, air-dried cooked and smoked meat snacks is resulting in year-on-year double-digit growth. The company's brands include Wild West Jerky, Bundu, Texas Joe's, and Cruga brands. In the U.K. and Ireland, the company manufactures and distributes jerky products under the Men's Health brand in partnership with the U.S.-based consumer magazine of the same name. It also makes private-label jerky products under contract for a number of U.K. grocery retailers.
To cope with the heightened demand for its products of late, the company recently invested in three Phantom metal detectors from Fortress Technology. Meatsnacks Group chose the supplier as it was the only food inspection provider to offer a system that could filter out the signal generated by iron filings from each packet's scavenger oxygen absorber.
Extending shelf life with scavenger absorbers
Prior to installing the three conveyor-style Fortress metal detectors, the BRC-accredited food producer says their Milton Keynes operation increasingly relied on contractors to hand-pack and seal packets of biltong, which proved labor intensive. "Now we have three fully automated lines that checkweigh, fill packs, insert the scavenger, and inspect for metal contaminants," reports David Stephenson, Engineering Manager at the Meatsnacks Group, Milton Keynes production site. "It has given us increased capacity, with our three lines now running non-stop 11 hours a day, six days a week."
In order to maintain the shelf life of up to 18 months and protect the products from spoilage, Meatsnacks Group inserts the scavenger absorber into every packet of jerky and biltong. "We find it's more effective than gas flushing, and it's a less complex process for extending shelf life and limiting the growth of aerobic spoilage organisms. Scavengers, which are especially popular in the U.S. market, also protect against loss of color and flavor," explains Stephenson.
Scavengers are easy to insert and irreversibly absorb oxygen inside sealed packaging to less than 0.01%. However, because they contain fine powered iron filings, they present a challenge to food inspection metal detectors. To solve this, Fortress installed its Scavenger software onto each Phantom metal detector. This enables Meatsnacks to simultaneously inspect for metal contaminants in addition to confirming whether each of the thousands of packs processed daily contains an oxygen scavenger. "The only other option presented by another supplier was a metal detector with two heads. This would have been a bulkier machine and incurred higher maintenance costs," claims Stephenson.
Meatsnacks also ruled out X-ray, partly because the machines are more expensive, but also due to the fact that contaminant risks are more likely to be metal. Stephenson explains, "We process tons of beef every week, therefore physical contaminants could range from buckshot in the meat to fragments of stainless steel from processing equipment. However, we are extremely risk aware. As testimony, every 15 minutes we stop and check our slicing machines, and our Quality Assurance team runs metal test pieces though the metal detector to check the reject system is functioning properly."
To maximize sensitivity, Fortress supplied an aperture measuring 350 mm x 125 mm, which accommodates both the small and larger biltong and jerky packs. "Machine setup for each product changeover is extremely straightforward," reports Stephenson. "There's a program for each product and different-sized pack.
"To recalibrate, our operators simply press a button, pass a pack without the scavenger absorber in it through the metal detector, and then one with a scavenger in it. The pack with the scavenger provides the signal benchmark, and then anything above this calibrated signal indicates that there's a metal contaminant, and the pack would be rejected. Equally, the Fortress software can tell if there's no scavenger absorber in a pack, enabling our operators to remove and empty the product into the hopper for repacking, which saves on waste."
With the Meatsnacks Group capitalizing on the health and fitness markets, premium snacks, and testing out vending machine options, the company looks set to beef up its market reach and retain its edge for innovation. Says Stephenson, "Having a fully automated packing and metal detection inspection line will enable us to meet European demand as our product range and the number of stockists and specialist markets we supply expands."
Companies in this article