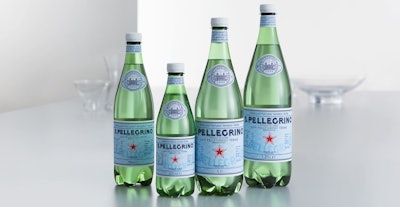 Both systems are Matrix Combis from Sidel, which has worked with Nestlé Waters for more than 50 years. Salvatore Sbriglione, Plant Director at Sanpellegrino, explains: "We wanted to increase output rates according to the different bottle formats we produce in Ruspino. The line dedicated to the bigger formats--750-mL, 1000-mL, and 1250-mL--was projected to grow output rates to 36,000 bottles per hour, while the one used to produce the 0.5-L bottles was intended to increase speed to 54,000 bottles per hour. In awarding the contract to Sidel, we clearly considered the longstanding relationship between Nestlé Waters, the group we are part of, and this supplier. However, what convinced us most were the high hygiene standards offered by their solutions and the fact that we both share the same, absolute focus on product and process quality."
As Sanpellegrino wanted to increase performance and production capacity, with no compromises on food safety, Sidel Matrix Combi was a logical choice. Combining blow moulding, filling, and capping processes into a single system, this solution reduces operating costs and uses up to 30% less floor space, compared with traditional standalone equipment. By integrating the different equipment types and production phases into a single system, while eliminating conveying, empty bottles handling, accumulation, and storage, line efficiency is improved for a lower TCO (total cost of ownership).
Additionally, using fewer component machines, Sidel Matrix Combi offers 2-4% higher efficiency levels than standalone machines, faster format changeovers, lower energy consumption, and a reduction of operating costs by 8-12% as a result of savings on labour, raw materials, and spare parts, says Sidel. By handling the bottles by the neck throughout the latter stages of the production process and eliminating intermediary conveying, it also offers greater freedom of shape and significant lightweighting opportunities. Featuring a unique look and feel, the PET version of the S.Pellegrino bottle was conceived and designed to be enjoyed at home and on the go. It is created in the same Vichy shape to ensure that the effervescence and bubbles of the mineral water's unique style would be immediately recognisable.
"Both Sidel Matrix Combis installed at the Ruspino facility feature Sidel's Blendfill configuration, combining carbonator and filler in a single system for top quality sparkling water," says Andrea Lupi, Sidel's Global Key Account Director. "This solution contributes to further reducing consumption of CO2 and results in a smaller footprint."
Both Combis supplied to the Ruspino site are equipped with Sidel's SF300 FM filler, ensuring strict hygiene--via a reduced filler enclosure--fully automatic changeovers performed via HMI (Human Machine Interface), optimum uptime, and highest productivity. This solution allows for a reduction in the use of CO2 and, by using servomotors, it minimizes the consumption of electrical power. Precision filling is guaranteed thanks to magnetic flowmeters and no vertical movement of bottles. This allows smoother handling, minimal foaming, and no bottle jams. Moreover, the reduced filler enclosure ensures minimum use of water and chemicals during external cleaning. This is how the Sidel Matrix Combi achieves full food safety--a major priority for Sanpellegrino.
Companies in this article