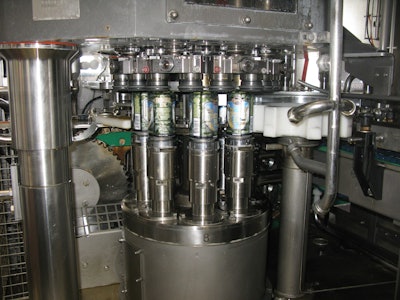 Few factors have been more influential in bringing about the rebirth of downtown Grand Rapids, MI, than the steady growth of Founders Brewing Company. Launched in 1996 by home-brewing enthusiasts and old college friends Mike Stevens and Dave Engbers, Founders is a shining example of the unique way inwhich a craft brewery can be both a thriving, profitable business and aspark plug in the renewal of a rust belt city.
The newest packaging operation to be added to the Grand Rapids facility is a canning line designed for running at 750 cans/min. It's Founders' second canning line. It was preceded by a line that runs at about 400 cans/min and by a 500/min bottling line. All three lines are dominated by equipment from Krones.
The newest canning line is most often used to produce something that no one has been more successful with than Founders: 15-count paperboard multipack cartons of 12-oz cans. Priced more attractively compared to six-packs of craft beer that typically sell for $9.00 or 12-packs that go for $16.00, the 15-count multipacks from Founders have been flying off the shelves in all 47 states where they're sold. A typical run is in the range of 25,000 15-packs, says Packaging Manager Matt Sutton.
These 15-packs, which are produced on a continuous-motion DuoDozen 1250M from WestRock, are conveyed directly into the palletizer. "We took the DuoDozen machine from our other can line," says Sutton. "We had it moved, installed, rigged, and running over the course of a three-day weekend."
While plenty of 15-packs come off the new canning line, it's also used for six-, nine-, and 12-count cartons, and for these formats distributors and retailers prefer that cartons be unitized in a corrugated tray. So there's a fork in the road, so to speak, that channels the smaller cartons exiting the DuoDozen into a Krones Variopac Pro. This machine picks corrugated tray blanks from a magazine, erects them with help from a Nordson hot-melt adhesive applicator, and puts four six-packs, two nine-packs, or two 12-packs into a corrugated tray. At the discharge of this Variopac system the conveyors carrying corrugated trays merge with the conveyors carrying 15-packs so that either format can proceed to the downstream palletizer with little changeover effort required, says Sutton.
Depalletizer comes first
A Krones Pressant high-level-discharge depalletizer is the first machine in the line. An operator loads pallets of cans, supplied by Ball, into its infeed conveyor and cuts the plastic strapping. The pallet then moves into the hoist bin. Up above, the top frame is automatically removed as well as the tier sheets that separate each layer. Then the cans are swept one layer at a time into a long stretch of conveyor that makes a U-turn and eventually single files them so they can proceed down an incline conveyor and into the filler. One notable component on this entire conveyor stretch from depalletizer to filler is that it's covered by clear plexiglass. "We have, of course, an ionized air rinser ahead of the filler, but we wanted to add this extra layer of protection to be extra sure nothing drops into a can," says Sutton.
Back down at floor level is the rest of the canning line, beginning with the filler. Worth pointing out is that right beside the filler is an HMI screen used by the line operators to access the Krones process control system known as Botec F1. It monitors and controls every stage in batch production and makes it 100 percent reproducible. "It's a computerized method of calling for product from tanks, or calling for other media like water or caustic or paracetic acid," says Assistant Packaging Manager Mike Downey.
"Before Botec," adds Sutton, "we were manipulating stuff by hand and manually connecting hoses to tanks and so forth. We still do some of that. But now we have cellar operators who are also technicians who specialize in computerized whizz bangery. Here in the land of Botec, everything is at the operator's fingertips on a screen immediately adjacent to the filler."
The specific filler in this case is a 64-head Krones Volumetic VFS-C filler. "One feature we went with on this filler, similar to our bottle filler, is we had Krones integrate an external foaming unit," says Sutton. "So when it's time to sanitize the exterior components of the machine, with the push of a button we can effectively apply the sanitizing foam to the filler." The alternative is to have an operator spray with a wand, an approach inherently less thorough and repeatable than this integrated system of pipes and nozzles.
Of all the new and equally sophisticated machines on the new canning line, it's the filler/seamer combination that stands out in Sutton's mind. "For me, that's where the rubber meets the road in terms of package integrity and, ultimately, consumer experience," he says. See sidebar for more on package integrity in cans vs bottles.
Cans destined for domestic markets get a "packaged-on" date, while those headed for the 20 or so countries outside of the U.S. get a "best-by" date. The time frame in which a beer is good depends on which beer it is, says Sutton. "But with most of what we produce, we'd like to have the beer consumed in the 150- to 180-day time frame," he says.
Automated can-end delivery
Filled cans enter an eight-station seamer from Ferrum and then pass through a Krones Checkmat 707 that checks fill level and confirms presence of a can end. The ends, by the way, are fed by an automatic can-end delivery system from CSW. An operator—one of just two required on the new line—places paper-wrapped 600-count sleeves of can ends into a hopper. The sleeves are indexed into the machine as needed and have their paper wrapping removed by the machine. A series of proximity sensors controls the infeed to ensure that ends drops in when needed. "At 750 cans per minute, we need a new sleeve of can ends about every minute," says Sutton. "With this automated can-end delivery system, the operator only needs to load sleeves into the magazine about every 22 minutes. That's one reason the line only requires two operators."
Once past the Checkmat inspection system, cans are inverted and pass through a drier so that, a short while later, they can be ink-jet coded on the bottom by a Markem-Imaje coder. Then they are uprighted again by going through another twist rail, after which they pass another drier before moving into mass accumulation. Conveyance of cans gets an assist from DryExx PRO, a versatile conveyor lubricant from Ecolab that enhances the mobility of PET or aluminum containers on plastic conveyors.
"This lubricant helps from a sanitation standpoint," says Downey. "And because it results in the use of a lot less water, it's environmentally sound, too." Elsewhere on the sustainability front, he adds, is Founders' 2018 goal of 90 percent landfill diversion, up from 85% in 2017. In other words, 90% of any waste—corrugated, plastic wrap, gloves—from production facility or taproom will never see a landfill.
Multi-lane diverter
Just ahead of the WestRock DuoDozen is a multi-lane diverter that makes it possible to configure the cans in the multipack format required. On the day of our visit, with 15-packs of Centennial IPA in production, the configuration selected was three lanes on one side and two on the other. This produces a five-wide can infeed, which eventually turns into five-deep and three-wide when cans enter the WestRock machine.
Once inside the WestRock DuoDozen, cans are collated into groups of 15 and smoothly pushed into cartons that have been picked as flat blanks from a magazine and, by way of a Nordson hot melt applicator, erected. WestRock also supplies the cartons that are fed into the DuoDozen machine. When cartons exit the DuoDozen, they're conveyed a considerable distance and pass a Markem-Imaje 5800 Series large-character ink-jet printer, which features Touch Dry Hot Melt solid ink block technology. It delivers a date code on a small rectangular white space on the end flap of each carton.
Palletizing is next, but not before the multipacks encounter a metering belt that indexes them according to the pattern required by the Krones Modulpal palletizing system. Also, a counter keeps track of how many cartons go by and at the appropriate time activates a mechanical tool that sticks out to cause three or four multipacks to turn 90 degrees. In this way, the desired pallet pattern is created before the cartons even reach the palletizer's sweep table. Also mounted on the conveyor just ahead of the palletizer is a Mettler Toledo checkweigher that kicks out any cartons that might be missing a can.
The Modulpal consists of three major pieces. One is a sweep arm that waits until a row of cartons has been metered in on a roller conveyor. The arm then sweeps that row onto a pallet pattern table. Once a complete layer is on the pallet pattern table, the sweep arm pushes that layer into a transfer device that lifts, pivots, and drops the layer on a waiting pallet. The transfer device then returns to the pallet pattern table and the cycle repeats itself.
Full pallets are conveyed out of the Modulpal and into a Lantech stretch wrapper. As wrapped pallets are conveyed out of the Lantech machine and through a SICK safety light curtain, a thermal-transfer print-and-apply labeling system from ID Technology applies to the pallet wrap a pressure-sensitive label. Printed on this label by a Zebra print engine is a bar code generated by something called the Brewer's Edge Warehouse Management System, a cloud-based solution from HighJump. The forklift driver who picks the finished pallet from the line scans this bar code and, instantly, the brewery's inventory system is notified that X number of cans, lids, and cartons need to be re-ordered. Also updated is finished goods inventory, which means that if anything like a recall would ever be needed, Founders would have immediately at its disposal a clear, real-time snapshot of where finished goods are in the supply chain.
More growth predicted
"This is hardly our first project with Krones," says Sutton near the end of our tour. "The 500/min glass line we installed in 2014 was turnkey Krones. This new can line was a bit different in that we worked closely with Krones, but we hired our own rigging company and relied on Krones onsite oversight for installation. With the timeline we had in mind we felt this approach was helpful. We started receiving crates into the space the first week of January 2017, and we were fully commissioned and ready to go by April."
Continued growth, adds Downey, is in the forecast. "In 2017 we produced 466,000 barrels," says Downey. "This year we expect to be at 600,000 or just north of that, and a lot of that growth will be in cans."
Sutton notes that he was production employee #30, Downey was #40, and now there are 120 people total in the production department. "But one of the nice things, for me at least, is that as we've brought on more people, the jobs increasingly require less brute force and considerably more technical expertise," says Sutton.
See video above article.
Companies in this article
Videos from Nordson Corporation