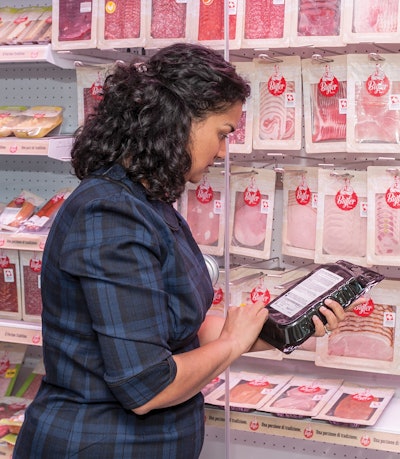 For approximately 20 years, Bigler AG Fleischwaren, a Swiss producer of meat products that is based in Buren an der Aare, has gone to market with two different brands: Bigler as the umbrella name, and del Lago as the main brand in the self-service sector. Since autumn 2016, a new strategy is in place: all products are now marketed in new packaging under the brand name Bigler. CFO Markus Bigler explains.
"With the del Lago brand we were well established at retailers and with consumers. However, the brand name was often not directly associated with our company Bigler. Therefore, we examined if we were still on the right track and decided on a new brand appearance."
"Our customers now understand at first sight who they are dealing with," adds Gérard Bigler, head of the processed meat division. "The new logo communicates exactly what we stand for. It symbolizes our craftsmanship as a butcher. It shows that we vouch for our products with our family name and underlines the Swiss origin of those products. All in all, it explains our Bigler promise: to produce butcher-quality meat products from the Swiss region."
In Switzerland, "from the region" is similar to what is sometimes labelled as "bio" in other European countries. It signifies that the product is nature-oriented, animal-friendly, and distributed with the shortest possible transport routes. This is especially important in the meat sector, where "from the Swiss region" conveys trust.
"Looking at our overall image after the relaunch," says Markus Bigler, "we have deliberately chosen silent branding and are using cream-colored printing for our packaging, whose design elements discreetly resemble those of the former del Lago brand. In this way, we want to distinguish ourselves from the often bright and shiny appearance of other players on the market."
The new packaging design is characterized by its natural look and pleasant haptics, owing to a special lidding material with the look and feel of paper; it was developed by Bigler together with its partner Bemis. This new Paper-Like™ film closely resembles real paper and gets its paper feel from a special converting technology. "This type of film has been out for a couple of years, and we were immediately interested after Bemis presented it to us," says Gerard Bigler. "That is what makes long-term partnerships with suppliers like Bemis worthwhile: new ideas are being presented, discussed jointly, and then further developed until everything matches. In this case, it took about two years from the first idea up to the launch of the new packaging at retail." The project was executed with great personal commitment from all stakeholders involved, he adds, including not just Bemis on the packaging material side but also Sealpac on the packaging machinery side. Bigler has greatly benefited from a long-standing relationship with both firms.
What's Paper-Like?
As for Paper-Like, some details Bemis and Bigler consider proprietary. But the base material for the Bigler application is a polyester that gets reverse-printed on a gravure press in eight colors. Somewhere in the converting process a coating applied to the surface of the film gives it the tactile, haptic quality that Bigler is after. Because this coating is applied in register, the center of the film remains clear so that the consumer can see the product inside.
Among the packaging formats Bigler uses, one is vacuum skin packaging. In this application, clear TraySkin® film from Bemis is applied to a tray in a Sealpac vacuum skin-packaging system, so Paper-Like is not used. But most of Bigler's offerings are in two packaging formats where Paper-Like is used across the board. One is a pretty straightforward Modified Atmosphere application where preformed trays are evacuated and backflushed (see Photo A) on a Sealpac system that then applies Paper-Like as the lidding material. The other application (see Photo B) is what Bigler calls "TriWeb." Roll-fed material is thermoformed on a Sealpac system, product is placed in the formed cavities, a layer of Bemis SkinTite™ film is applied in a skin packaging station, and then a layer of Paper-Like is applied to the flange of the tray. This format leaves a flat surface that is especially suitable for labeling. Furthermore, these packs can be easily stacked with minimum risk of leakers. Also, the additional chamber, created by the second top film, even allows for extras, such as garlic butter, spices, or recipes.
It's important to point out that most of Bigler's meat packages are presented to the consumer in the supermarket in a vertical orientation, which is far more common in Switzerland than in any other European country. Swiss consumers just expect to see these kinds of products standing or hanging from a peg. The advantage of skin packaging is that the product remains securely fixed and does not move, resulting in an excellent appearance. For retailers, skin packaging allows them to fit more product on the shelf. Many applications in Switzerland are fresh and marinated meat, but vertical presentation is also seen in seafood and even ready meals.
What sometimes holds back the development of skin packaging for fresh meat is that the color of the product inside the vacuum pack will be less red. Gérard Bigler: "The fact that meat products in skin packaging are characterized by a darker red has been well received by Swiss consumers. In my view, however, the color is not as important as having an overall appealing and convincing appearance." Therein the Swiss differ from other European countries, where meat is mainly packaged under modified atmosphere, because consumers there are mostly conservative and prefer meat with a bright red color. On the other hand, the demand for skin applications is growing noticeably in Germany as well these days. Especially high-quality products, such as premium or organic meat, are increasingly offered in skin packaging, because the quality of the meat can be improved: under vacuum it will mature better, remain beautifully tender, and stay fresh longer.
Gérard Bigler: "I am pretty certain skin packaging will also revolutionize the German and other European markets, as the advantages speak for themselves. Due to the vacuum, at least two days of extra shelf life are achieved, which is considerable for meat. In this way, the shelf life of fresh meat can be extended to 12 days, which is extremely important for retailers, as they can now cover two strong-selling weekends." Markus Bigler adds: "But maximum shelf life can only be achieved with an optimal cooling chain. To keep this under control, we own a fleet of no less than 60 trucks that drive all over Switzerland on a daily basis to provide fresh products to the retailers. This is cost-intensive, but product quality is our main asset to our customers. And we owe it to our quality commitment, which we have underlined again with our relaunch."
New building in the works
Bigler will soon be opening a whole new building that allows the company to meet the ever increasing demand for high-quality convenience products. In its new premises, Bigler will for example be able to process vegetables and produce its own sauces. It's another example of keeping as many production steps as possible in house to meet the quality promise.
"Convenience is still important in Switzerland," says Gerard Bigler. "From my point of view, products with a bright future are the ones that are easy to prepare but leave the end user enough space to add his or her own touch. By the way, I do not see a contradiction between our claim to offer both traditional meat products representing the butcher's finest craftsmanship as well as convenience products, because the market holds different types of consumers. On the one hand magazines and TV shows with regard to cooking are booming, which stimulate consumers to carefully select their meat. On the other hand, there are still plenty of people who are more interested in quick and easy preparation, yet value product quality. We simply want to address both types of consumer."
With new players like Amazon Fresh, but also with existing retailers supplying this type of service more and more, online trading and home delivery of food products is increasing. Markus Bigler: "Of course we're paying close attention to this trend. But if you look at the food segment in Switzerland, you can see that the growth rates for online trading are comparatively low. I am sure this area is interesting for certain niche products, but meat is simply a matter of trust—and the trust of consumers must be gained by the online retailer first. We are currently not active online, but we will certainly adjust to the needs of our customers if necessary. As far as the future of supermarkets is concerned, they now have a great opportunity to show their added value compared to online services. They can offer consumers a true shopping experience by allowing them to see and feel every item. This is quite important for fresh products, and particularly meat. I believe the trend is moving away from megastores back towards shops that reproduce the traditional market setting in your local town square."
Companies in this article