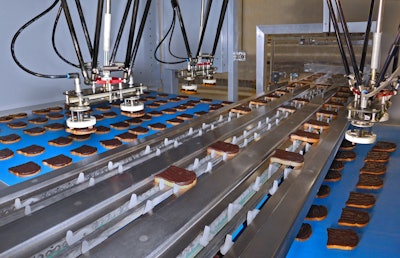 Known across Europe for its famous rusks, or twice-baked biscuits, Hagen, Germany-based Brandt produces approximately 17,000 tons of rusks each year. Its products are mainly sold in Europe, but are shipped as far afield as Japan. The 100-year-old, family-run company says it owes its success to the long-lasting trust it enjoys among its customers and its innovative approach to product development.
One such development, currently very popular with consumers but initially challenging from a packaging perspective, is the flavor coatings applied to some rusk types. During production on a new line in Brandt's Ohrdruf, Germany, facility, the freshly baked rusk slices are randomly placed on a conveyor belt. To pack the slices into paper trays, the company was looking for a highly versatile pick-and-place technology. The products needed to be oriented and positioned with accuracy, and in straight lines, with quality checks to ensure that only products meeting Brandt's quality standards were packaged. Moreover, gentle handling was essential, particularly for rusks with irregular surfaces or a premium chocolate coating.
The company was therefore looking for a solution that could increase both production and flexibility. Brandt analyzed various solutions and in August 2014 selected a Delfi feed placer, which features an integrated vision system and three Delta robots from Bosch Packaging Technology SA.
Explains Marco Geimer, Plant Manager at the Ohrdruf facility and the man behind the decision to buy the machine, "It was Bosch's expertise that won us over. The offer they put together was exceptionally detailed. We were confident that Bosch had asked the right questions, really addressed our product needs, and come up with the most suitable solution for us."
From the time it was installed in early 2015, the Delfi solution allowed Brant to boost its output significantly—from 270 to nearly 390 products/min—due to a higher pick-and-place speed and a lower rejection rate, resulting from gentler product handling. Two Venturi-based end effectors per robot pick the rusk slices very carefully and place them into the infeed chain of the downstream tray loader.
Explains Marc de Vries, Sales Director for Bosch Packaging Technology SA, "With the Venturi-based end effectors, Brandt minimizes the amount of surface that is actually touching the product. Furthermore, as some of the products have delicate coatings, the risk of causing any damage or markings is considerably reduced." The Venturi-style end effectors also ensure the robots' air tubes are protected from contamination with product particles, which reduces cleaning and maintenance efforts as well as the resulting downtime.
Says Geimer, "We haven't taken things as far as we can yet. The machine is designed to handle 390 products per minute. We are looking to achieve this quantity by optimizing the entire production process step by step."
In considering equipment for the application, it was important for Brandt to reliably package the various rusk types with different properties on a single line. Currently, the Delfi system is handling four different flavors, including rusks with a chocolate or coconut coatings.
Brandt is also looking to introduce new varieties. Through the parameter settings of the Delfi vision system, new product formats can be added and simulated on the HMI. This can be executed without using actual products and during production.
However, new product types present the company with novel challenges from a quality assurance perspective. To address this, the Delfi feed placer's vision system performs continuous quality inspections by detecting defective products on the basis of predefined specifications. Defective products are not picked up, which means they can be rejected automatically. This critical task has previously been done by hand. "But no employee can oversee a conveyor belt filled with products and guarantee full quality," says Geimer. "With the Delfi system, we now enjoy almost a 100-percent control."
The partnership between Brandt and Bosch dates back more than 18 years. Fourteen Bosch solutions have already been integrated into the rusk manufacturer's production processes, which was a big advantage for incorporating the new system and integrating the various interfaces. The long-standing collaboration has proven valuable in terms of ensuring the Delfi solution was perfectly adapted to meet current as well as future production needs.
"Product handling is now more hygienic and efficient than ever," says Geimer. "The Delfi picker is working so perfectly that we're even receiving feedback from employees when the production process on other machines isn't working quite so well. This information helps to identify needed improvements on the production side. All in all, the collaboration has been an enjoyable experience and has led us to consider further joint projects with Bosch."
See four other case histories in Part 1 of Packaging World's Robotics & Automation Special Report.
Companies in this article