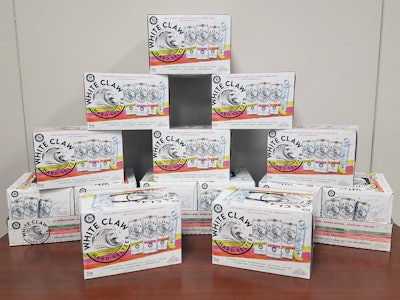 A premier contract beverage producer/packager, City Brewing Company LLC operates facilities in La Crosse, WI, Latrobe, PA, and Memphis, TN. These facilities, all capable of producing and packaging beers, malt beverages, teas, and energy drinks in a variety of bottle and can sizes and pack configurations, have a combined capacity to turn out more than 130 million cases of beverages annually.
The contract beverage packer wanted to take advantage of growing consumer demand for variety packs by using high-speed automation technology to increase variety can packing efficiencies. The ambitious project created an entirely new can cartoning and casing line at the Memphis plant.
After evaluating available cartoning options, City Brewing installed a QuickFLex® 2100 beverage folding carton machine from Graphic Packaging International, Inc. at its Memphis plant. The QuickFlex is engineered to accommodate multi-diameter/multi-height cans with tool-less changeovers and pack at high speeds. The two companies worked closely together to achieve a fast and flexible system to meet City Brewing's diverse customer requirements.
Ross Sannes, VP of Business Development at City Brewing, says, "We started the installation in January 2017 and went live in May 2017. GPI technicians were on-site for all phases of the installation, training, and start-up, and they still come on-site for the first run of any new package we introduce."
Step-by-step efficiency
Sannes describes the complete secondary 6-station repack line operation (see video shown here) as follows:
• Line is manually fed corrugated trays each holding 24 cans of a single flavor; this is the only part of the line that is not automated
• Shrink film on trays and ring carriers on cans are removed by operators who feed these materials into an overhead Air Shark™ AS-30 capture separator from AES connected to an AES Balemaster 20 HP TEFC baler.
• Corrugated trays then are indexed on the six lanes into a Wepackit Machinery 350DC decasing system. Six vacuum heads remove the cans from the trays and place them on a mat-top conveyor system from Arrowhead Systems, Inc. that channels the cans into single-file flavors.
• Emptied trays stay on an Arrowhead bypass conveyor that routes them to the re-caser station where they will be filled again, this time with paperboard cartons each holding multiple flavors.
• The single-file cans are fed into the GPI 2100 G3 Multi-Packer carton line with line speed of 1440 cpm and surge speed of 1728 cpm.
• Cans are packed into one of 13 configurations of one to six flavors in fiberboard scored carton flats supplied and printed in up to 8 colors by GPI. Rotogravure, offset, and flexographic printing option are available from GPI.
• Multi-packs then travel through a GPI turner/divider to orient them for re-casing.
• Cartons and trays are date-coded by laser-coding equipment from Domino.
• Multi-packed cartons then are routed to the WePackIt 350CP with 6 vacuum heads to lift the cartons back into the indexed corrugated trays supplied by WestRock and General Paper Products, Inc.
• Sealed cases then proceed to the Alvey palletizer and a stretch wrap system from Sigma Supply.

Optimum results
The Memphis variety pack line currently has the capability to pack 12-oz and 16-oz, standard cans, as well as 5.5-oz, 7.5-oz, 8-oz, 8.4-oz, 10.5-oz and 12-oz sleek specialty cans, and the line outputs a range of formats from 4-packs to 30-packs in one to six-flavor variety packs. City Brewing has estimated that addition of the Variety Line will add 9.5 million cases per year to the existing 50 million cases per year capacity at the Memphis facility.
Sannes says, "Historically, variety pack operations have been done by hand. A good manual operation can run 3,000-4,000 cases per day. We expect to run on average 40,000 cases per day. We now can offer our contract customers the flexibility to run 13 different pack types and 7 different can sizes at high speeds. And our ability to quickly convert pack configurations allows our customers to more easily manage sales spikes and product inventories. The Memphis Variety Pack line is the fastest and most automated line we could design, while still optimizing flexibility of finished packs."
Companies in this article
Videos from Graphic Packaging International