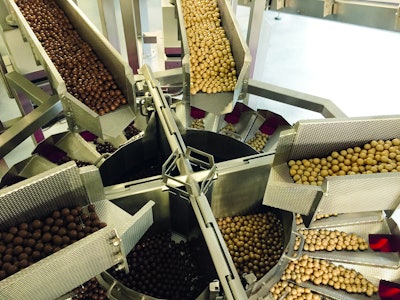 To expand capacities, the firm recently installed in its Oss facility in the southern Netherlands a multi-head weigher Model MP 24-1000/400-H-S5 from Multipond for mixtures of up to four diffe­rent components. This is the ninth Multipond weighing machine installed by Vetipak.
The products to be weighed are fed to the weigher by four Multipond cross head feeders. Once they have arrived on top at the weigher, the products are first conveyed to the prefeed hoppers by the radial­ly positioned feed trays and then to the weigh hoppers underneath. The system operates based on the principle of combining partial por­tions. After the weighing process, the partial portion is deposited via specially-developed swiveling funnels into the memory hopper underneath. The use of the memo­ry hoppers greatly increases the number of possible combinations and ultimately provides the basis for maximum accuracy and speed. A computer now determines, from the partial portions, the combina­tion that corresponds to or comes closest to the desired target weight. Depending on application, the fi­nished weighed portions are finally delivered to the timing hopper, from which they are transferred to the downstream form fill seal machine.
The target weights on this line are between 10 and 400 g, depending on the product. The standard de­viation is less than 0.3 %, and the mean value corresponds to the desired target weight. The line runs continuously at up to 140 weigh­ments/minute.
The system is operated using a convenient color touchscreen monitor. Rens van de Rakt, Pack­aging Technologist at Vetipak, explains: "The familiarization time for the opera­tors on the Multipond machine is much less than any other systems installed in our factory. The clearly arranged HMI makes a key contribution here."
All Multipond weighing systems installed at Veti­pak are multiflexible, so that they can react to a broad range of customer requirements swiftly and sim­ply. The ultimate aim is to weigh products with different characteri­stics - from chocolate to dog food - quickly and precisely. Says van de Rakt, "Our machines claim to achieve a high degree of flexibility and reliability. We must be able to respond extremely quickly to our customers' require­ments – and we expect the same of our system suppliers. We are in the best hands with Multipond."
Companies in this article