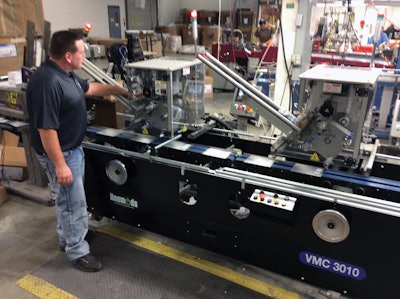 Larkin Industries, Inc., St. Paul, MN, specializes in print finishing, steel-rule die-cutting, hot-foil stamping, embossing, and straight-line folding services. The company also offers automated affixing/tipping of onserts such as detachable gift cards, tokens, keys, and sample product packets (for example, of skin lotion) to primary packages. Incorporated in 1976, Larkin Industries, Inc. was founded by Michael and Lynette Larkin, who started their business out of a one-car garage with one very old press. Today, the Larkin facility occupies 55,000 square feet and operates more than $10 million worth of equipment.
Due to the wide shape/size variations of affixed items that diverse customers may require, affixing specifications are especially critical. Any off-specs can have a dramatic impact on production speeds and finished packaging quality. Larkin Industries Packaging Supervisor Matthew Gackstetter explains, "Our old vertical placer worked okay, but we could not fill the magazine to full capacity or the pieces would fall through. And the placement accuracy was not where it needed to be. When researching, I came across Graphic Packaging International, Inc. (www.graphicpkg.com), located in our home state of Minnesota, three hours north of us. I decided to go tour the facility. I was greatly impressed, not only with the equipment, but also with the facility as a whole."
To help achieve the needed accuracy, consistency, speed, and versatility, Larkin enlisted the technological expertise of Graphic Packaging, Inc. Instead of more conventional friction feeding to pick and place items to be affixed to packages, GPI recommended that a random servo rotary machine could do a better job. Gackstetter notes, "We were running a job that had two irregular pieces. After trying several different types of machines, we finally tried the GPI rotary placer. We had a GPI technician come in to help set up the system and train our staff."
GPI set up a test machine for one of Larkin's odd-shaped affixing jobs to demonstrate the reliability of picking and placing. The test was successful, and Larkin purchased its first GPI servo rotary system in October 2013. The GPI pick and place mechanism is mounted on the base of and works in tandem with a transfer/vacuum table from Linemods LLC (www.linemods.com) that helps hold products/packages in proper position.
Larkin recognized the flexibility of servo rotary beyond the test application. By installing the machine, Larkin was able to bid on a range of other affixing applications. And, in the Spring of 2014, Larkin installed a second GPI servo rotary machine.
Adding up advantages
Larkin has realized several benefits by implementing random servo rotary picking and placing operations. Placement accuracies and speeds and versatility to accommodate a wider range of sizes/shapes of affixed items have been greatly enhanced. And the amount of packaging scrap and packaging rejects has been significantly reduced, resulting in overall packaging materials cost savings.
Gackstetter states, "The rotary placers made by GPI are extremely accurate. We have been able to run odd-shaped products with placement accuracy of less than one millimeter at speeds up to 13,000 pieces per hour. On one of our biggest jobs of 2.5 million pieces, we had zero rejects."
Companies in this article
Videos from Graphic Packaging Intl.