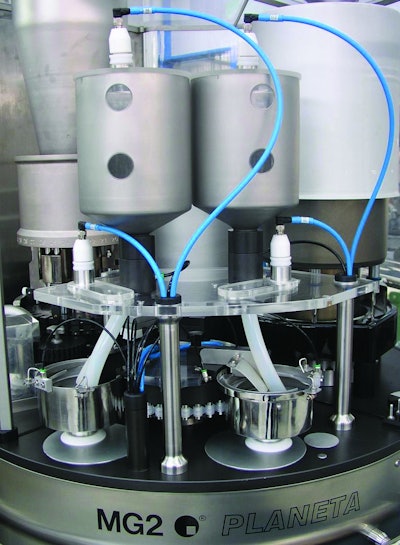 Sharp Clinical Services increased its capability to fill capsules for the pharmaceutical industry with the acquisition of MG America's Planeta 50 continuous capsule filling machine.
Sharp Clinical Services serves the global pharmaceutical and biotechnology industries with clinical trial materials support, services, and project management, from pre-formulation to global logistics and distribution. Sharp Clinical Services is a division of Sharp Packaging Services, a UDG Healthcare company.
The Planeta 50 can fill capsules with powder, pellets, tablets, or micro-tablets at a rate of up to 50,000 capsules/hr, as well as offering an in-process weight control system.
By adding the Planeta 50 to its other means of encapsulation, Sharp can now fill capsules ranging from a few hundred (for preclinical or early Phase 1 studies) to hundreds of thousands of capsules (for larger-scale Phase 3 studies and beyond).
Dr. Frank Santillo, Senior Director of Research at Sharp Clinical Services, say, "The Planeta provides a radical change to the way we can produce capsule products for our customers. There are two features especially that distinguish the Planeta from the other encapsulation machines—an in-process weight control system and a Universal Tablet Feeder. These are uniquely important for capsule production in the clinical phases."
The built-in 100% NETT WEIGHT Control System of the Planeta 50 allows Sharp tomonitor and control the "net" weight of each filled capsule with individual dosator monitoring. Those capsules not meeting customer specifications are automatically rejected. With this monitoring capability, Sharp's clinical customers are assured that every dose is accurate.
Planeta's Universal Tablet Feeding unit permits Sharp to more quickly and cost effectively provide overencapsulation, considered one of the significant clinical production techniques Sharp offers.
Santillo explains, "Overencapsulation is a technique of blinding drug products in a placebo-controlled study so that neither the patient nor the physician knows if a placebo or active is being given. Traditional approaches to overencapsulation production are either manual (a slow and inefficient process) or machine-produced (typically requiring tooling for each tablet shape involved in a study). Tooling costs can be significant and more critically, the delivery time for tooling from the tooling vendor can be up to nine weeks.
"The Planeta we purchased has a Universal Tablet Feeding unit. For a given capsule size, the Universal Tablet Feeder allows any-shape tablet to be dosed in a given capsulesize, eliminating the cost of custom tooling to the customer and the more importantly, eliminating the delay," he notes.
Companies in this article