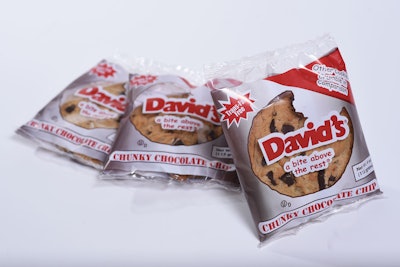 David's Cookies, Cedar Grove, NJ, makes premium fresh-baked cookies, brownies, muffins, cheese cakes, frozen doughs, and other pastry items while operating a leading on-line bakery store. About 90% of the company's business is foodservice, and about 10% is on-line/retail.
Using polyethylene film from multiple suppliers, the company pillow wraps its products in a range of sizes from 1.5"W x 2"L x 1"H to 5"W x 7"L x 2"H. All shipping cases are manually packed.
The company has been experiencing especially outstanding growth in the corporate gifting category and wanted to upgrade wrapping systems to keep pace with product demand. Efraim Korn, Director of Maintenance for David's Cookies, notes, "We considered various options and enlisted the advice of our packaging systems sales agent Bob Fournier at Jaffco Packaging Machinery, Inc., (610/517-1028) a packaging machinery wholesaler and distributor, to help us identify which wrapping system would best suit our needs. Bob's assistance was invaluable. He came to our facility to learn about our specific requirements and to take all necessary measurements. He recommended the Model Pack 101 horizontal flow wrapping equipment from Bosch Packaging Technology, Inc., and we then coordinated closely with their sales engineering team to equip the wrapper with the appropriate options and format parts to meet our needs."
The Bosch Pack 101 is the newest, higher-tech generation of the Doboy Super Mustang machinery that had served David's Cookies long and well. So David's was comfortable and confident about the transition.
In July 2014, David's Cookies installed the Bosch Pack 101 wrapper. Downstream from it is metal detector from Mettler Toledo. Says Korn, "The machine was ready on time and was exactly as promised. And Bob Fournier was on-site to help make sure we had a smooth start-up. The machine wrapped perfectly every time. There are so many things that make the new machine better than the old mechanical wrapper. But most important is the new system's reliability."
When the system was initially installed, David's Cookies only had six recipes in six package sizes that needed to be overwrapped. So the Pack 101 wrapper was pre-programmed with the six recipes/package sizes. Korn recalls, "I spent a day at Bosch's facility where I received in-depth training on how to set up and run the machine. One day of training was more than enough time to become completely familiar with the user-friendly equipment."
Occupying minimal floor space, the Pack 101 features adjustable former, flexible cutting head height, and left- or right-hand execution. All electronic, push-button control of motors and drives automates changeover operations and averts line jams.
Korn reports, "With this new wrapper we are able to run twice as fast as before. Depending on the product, we now have the capability to run up to 90 pieces per minute, but so far have never run over 80 PPM. Our current average is 65 PPM. The wrapper runs continuously and consistently delivers uniformly perfect seals with almost no downtime. It's also very flexible. Set-up for new items is quick and easy."
The wrapper also facilitates film savings. A trouble-shooting motor load sensitivity mechanism senses film feed blockage or snags and automatically stops operations to prevent further packaging material damage.
Companies in this article
Videos from METTLER TOLEDO Product Inspection