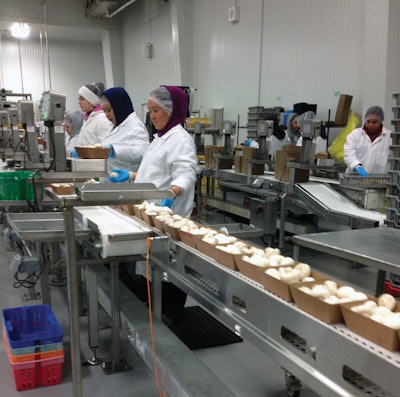 Headquartered in Watsonville, CA, family-owned and operated Monterey Mushrooms, Inc., bills itself as the nation's largest and only national marketer of fresh mushrooms for sale to supermarkets, foodservice operations, and ingredient manufacturers. The company runs ten growing farms throughout North America and vertically integrates operations to control all aspects of mushroom production and packaging.
One of Monterey's mushroom production/packaging facilities is located in Loudon, TN, and serves the southeastern U.S. markets. Every day at this plant thousands of pounds of mushrooms are picked and hand-sorted according to size and maturity. They end up packed in either HDPE (high-density polyethylene) trays supplied by Fabri-Kal or RPET (recycled polyethylene terephthalate) trays from Dolco Packaging/Tekni-Plex and in corrugated trays supplied by Everett Graphics.
Packing operations can go as long as 16 hours per day. When packing is finished for the day, a sanitation crew cleans and sterilizes every conveyor along with the rest of the facility. Two years ago, to better accommodate its high daily volume and strict sanitation regime, Monterey Mushrooms undertook a plant renovation. The company added new dry storage space, a new cooler, and more loading docks. Monterey also redesigned its packaging lines for improved efficiencies and state-of-the-art sanitation operations. The redesign incorporated a sophisticated network of sanitary conveying systems from Dorner Manufacturing.
Monterey selected a mix of about thirty AquaPruf and AquaGard sanitary conveyors from Dorner. David Redd, Engineering Manager for the Loudon facility, says, "I've always known Dorner was top-notch. They offer good quality conveyors that we've used in the past. So choosing them was an easy decision."
Two of the six new packing lines are fed from overhead by Multipond bucket scales and combination weighers. The Dorner conveyors are part of a six-lane packaging line, with each line stretching about fifty feet in length. Several weigh stations are positioned alongside the conveyors to assist operators in ensuring proper weights for hand-packing of the mushrooms. The mushrooms are packed in 8-, 12-, 16-, and 24-oz trays, and overall average packaging speeds are 90 trays/min.
After the filled containers are loaded onto the Dorner infeed conveyors, they enter the wrapping, labeling, and date-coding section of the packaging line. Overwrap film is supplied by AEP, and the Model 8500 overwrapping equipment is from Omori. Monterey uses Label-Aire blow-down labelers to blow labels onto the film overwraps. DataFlex Plus code-dating equipment is from Videojet. Finally, the packages then are conveyed to the Anritsu over/under checkweighing and metal detection equipment before proceeding to the shipper-packing area. Monterey purchases corrugated shipping cases from International Paper, and uses shipping case erectors produced by Plemons.
Because the conveyors are used both before and after the mushrooms are packed and wrapped, different levels of sanitary requirements are needed in the conveyor network. On the pre-packaged mushroom side, AquaPruf conveyor belts are required to be fully washed down and sanitized daily. AquaGard conveyor belts, used to move wrapped mushrooms, require less stringent levels of sanitation that basically can be accomplished with wipe downs. All the major components of both the AquaPruf and AquaGard platforms can be completely disassembled and sterilized within minutes, when necessary.
Redd worked with Steve Averdick from automated packaging machinery distributor Belcorp, Inc. to help custom-order a conveyor system to meet Monterey's needs. Averdick notes, "From a sanitary standpoint, Monterey was looking for a conveyor platform that they could quickly and easily clean and sterilize. Dorner was the right fit for them. Monterey had a goal to be able to sanitize their conveyors as effectively and efficiently as possible. We helped them by installing belt lifters and tip-up noses on all the AqauPruf conveyors, so that when it came time to clean them, in-plant sanitation personnel could easily access every component of the conveyor systems."
Over the course of a year, Averdick coordinated closely with Redd and Dorner staff to design a streamlined conveyor network for Monterey's packaging lines. Averdick recommended both Dorner's AquaPruf and AquaGard conveyors as the optimum means to move the mushrooms. Dorner's conveyor platforms are engineered for the food and medical industries and meet various government agency regulations for safe and effective operation. They offer a wide flexibility to accommodate a range of product/package types and weights.
Conveying with confidence
According to Redd, "The main reason we selected the stainless steel frame Dorner conveyors is the simplicity of design. Both the AquaPruf and AquaGard frames offer easy cleaning access to accommodate our sanitation crew and can be disassembled in five minutes. The belt lifter design on the AquaPrufs is the best I've seen. Previously, our belts had to be removed to properly sanitize the conveyor system. With the Dorners, our sanitation times have been drastically reduced. And we've enhanced our Good Manufacturing Practices (GMPs) and Hazard Analysis Critical Control Points (HACCP) procedures.
"Also, the Dorner and Belcorp staffers have been available via phone or email to resolve the few installation or operation issues that we've experienced. Our highly trained in-house maintenance mechanics and a millwright firm we engaged have done a terrific job on the installation and start-up of the conveyor network."
Summing up, Redd comments, "Everyone here has been very pleased with the quality and durability of our Dorner conveyors. It's been a positive experience for us and validates that we made the right conveyor decision. Monterey Mushrooms strives to be the best in the industry, and the Dorner conveyors are helping us meet that goal. We've been able to increase our infeed/outfeed conveyor speeds by 15 percent versus our previous packaging set-up. In fact, we have such confidence in the Dorner conveyors that we are planning on utilizing them in our packing room improvement project at our Madisonville, TX facility."
Companies in this article
Videos from Anritsu - Product Inspection & Detection