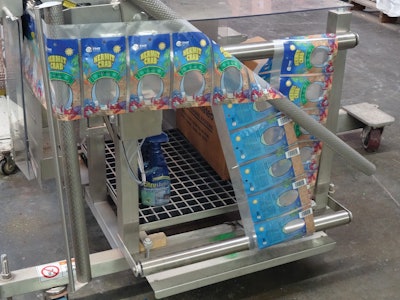 If you've ever traveled to Florida and visited a souvenir or gift shop there, you may well have seen a display of live hermit crabs, scuttling from shell to brightly colored shell, being offered for sale. While it may appear that these marine creatures lead a fairly basic existence, Sarasota, FL-based Florida Marine Research (FMR) offers a range of more than 30 products to entertain and nourish the hermit crab and liven up its environment.
Among the food and accessory products offered by FMR are neon-colored gravel, sponges, sand, coral pieces, shells, a swimming pool, a food and water dish, fruit treats, and more. The company also sells the hermit crabs themselves and their shells, either natural or decorated, to pet stores and online retailers around the world.
In 2012, with an expanding product line and a rapidly growing business, FMR began looking for a more efficient way to package its products into stand-up pouches and pillow packs—a process that up until then had been manual. The solution came in the form of an automated horizontal form/fill/seal machine from Automated Packaging Systems, Inc. that provides the speed, flexibility, and ease of operation required by the company.
During a recent visit by Packaging World to the FMR facility, Plant Manager Daniel Castellano raved about the system's capabilities—including its reliability, rapid product changeover, real-time productivity data, speed, accuracy, and low maintenance. "We have had the machine for three years, and we love it," he says. "It's really, really good, and really, really safe."
Flexibility, speed are key
When FMR was looking for a new packaging solution, it enlisted the expertise of local packaging machine distributor Gulfcoast Packaging. Gulfcoast's president, Neil Kopinski, recommended Automated Packaging Systems' FAS SPrint Revolution™ SidePouch® bagger due to its ability to handle multiple bag sizes and its speed.
FMR packages its products in 1-, 2-, and 3-lb preprinted or clear polyethylene bags in sizes that range from 4 x 6 to 9 x 12 in. as well as a new 5 x 16-in. bag. As Castellano explains, to switch from one bag size to another, the operator merely needs to change the bag film and select a preprogrammed recipe from the machine's AutoTouch™ control software via the HMI. "If you load the new film but forget to change the recipe, the machine will see the conflict and will alert the operator," he says.
The SidePouch bagger at FMR comes equipped with an auger filler that feeds gravel, sand, and food pellets into pre-opened pouches presented along a horizontal feed with a 6-in. pass through. The machine also allows operators the flexibility to manually fill bags with non-granular products such as shells and accessories. For this process, a footswitch enables manual bag indexing. In the past, with all packages filled manually, three operators were required to handle product packaging; now, only one is needed, resulting in a 66% reduction in labor costs.
"The time savings is exponential," says Paul Manger, President and CEO of FMR. "This is an easy investment to make because of the rapid return on investment. Our preprinted SidePouch bags are retail ready, and the pre-opened bags are much easier to fill than the stand-up pouches we used previously. The versatility of this machine is incredible, and it is capable of bagging faster than we can pack. We even eliminated overtime during our busiest time of the year."
High productivity
The SidePouch system uses an integrated Allen-Bradley® () control package, featuring Kinetix® servomotors and drives, a CompactLogix™ L45 PLC, and a 10-in. PanelView™ Plus HMI to deliver ease of operation, integration, and system reliability.
During operation of the bagger, preformed, pre-perforated SidePouch bags—supplied fanfolded in a case—are manually threaded onto the bagger loader, and the bags are carried to a horizontal conveyor. Once in the machine, a knife/hook mechanism separates the bags, with the perforation allowing for a clean split. The bags are then slit open at the top and are carried along a 60-in.-wide loading area, for filling either manually or via the auger filler. Once the bags are filled, a motion seal flattener coupled with a band sealer seals the bag, producing 3∕8-in. seals, and the excess film is trimmed from the top of the bag. Finished packages are then dropped onto an outfeed conveyor for manual case packing or for loading into totes for inventory. Says Castellano, "Every single bag, from start to finish, is the same."
While Automated Packaging Systems offers automatic weighing and printing options, FMR does not use these components, preferring instead to manually weigh bags at intervals for a quick quality check.
With the new system, FMR typically produces filled and sealed bags at a rate of 500 to 700 in./min, depending on pouch size. The SidePouch machine is capable of operating at 900 in./min, determined by the bag size, but Castellano remarks that rates up to 900/min would be too fast for FMR to keep up with manually.
Among the capabilities of the system that Castellano finds particularly valuable is its AutoTouch control software, which allows him to monitor virtually every aspect of production, including real-time productivity data and on-board system diagnostics. "For every changeable piece of the machine [i.e., knives, belts], you can see how many inches of film you have run to determine when they need to be replaced," he says. "You can look at productivity to make sure you reach your goals for the year, and you can see how much you've produced of each product, to name a few capabilities." The system also keeps track of how many bags have been produced since the machine began operation—at the time of PW's visit, it was 387,899.
Castellano also appreciates the machine's low maintenance requirements. "There is nothing better than this machine," he says. "It is very easy to clean, and parts such as the knife or belt have a long life." Since acquiring the machine, he says FMR has only had to change the knife used to cut the bags twice, and the Teflon belt in the sealer has been replaced every seven to eight months.
Since installing the SidePouch bagger, FMR has been able to produce approximately 5,000 cases of product per week.
Companies in this article