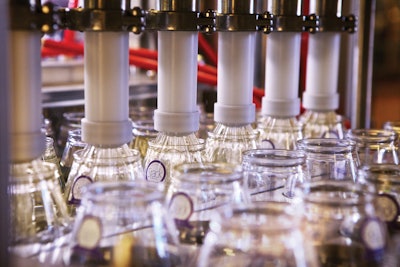 When Stacked Wines LLC launched its stackable single-serve PET-based wine packs in early 2012, it had modest near-term goals for its product. As Jodi Wynn-Ryan, co-founder and Vice President of Marketing told Packaging World later that year, "We hope to eventually distribute the product nationwide, moving slowly from California into the Las Vegas and Phoenix areas in the near future." (See pwgo.to/1444)
Not long after, Shaw-Ross International Importers picked up the brand, expanding distribution of the product to 35 states "virtually overnight," Wynn-Ryan relates. "We went from maybe 4,000 cases in 2012 to about 40,000 cases in 2013, so it grew very quickly from that point."
With greater popularity and visibility came greater opportunities for Stacked Wines to partner with other companies and introduce new brands using its Vinoware™ technology. Vinoware combines proprietary packaging materials and bottling technology to create a crystal-clear, stemless "wine glass" with a barrier technology that offers a 24-month shelf life.
In January 2014, Stacked Wines moved filling of its StackTek package from a co-packer to its own, custom-designed line in Modesto, CA, representing an investment of $4 million and a 1.5 million case/yr capacity. Among the advantages of the new line, Wynn-Ryan relates, are its location close to the source of wine production in the Central California region, the flexibility to research and develop new package configurations and product applications, and the opportunity to provide co-packing or turnkey packaging services to new customers. The line also allows Stacked Wines to cut costs versus working with a co-packer.
Numerous advantages
The StackTek concept was developed in 2011 by three friends seeking a better wine drinking experience. In their view, 750-mL wine bottles not only lacked the ability to keep wine fresh after opening, but they also discouraged consumption in venues where glass breakage was an issue. While Vinoware technology was at the heart of the concept, co-founders Wynn-Ryan, CEO Matt Zimmer, and in-house sommelier Doug Allan were also committed to offering a high-quality wine product.
"The word we always use is that the wine has to 'over-deliver,' because the bar has been set pretty low for wine in alternative packaging, and there is sometimes the perception—although I think that is changing—that the wine quality is inferior," says Wynn-Ryan. "We feel our wine has to over-deliver on those expectations to show that the package doesn't determine the quality of the wine. You have to start with good wine before you put it in the package."
Stacked Wines' name brand product, Stack Wine, is available in four varieties of premium California wine. Vinoware is the vehicle preserves that quality. The StackTek package comprises three proprietary components: a 187-mL container, a foil composite lidding film, and a plastic overcap.
The PET-based wine container is stretch blow molded from a copolymer material that provides clarity and is well suited to injection molding. The container, says Stacked Wines, is compatible with food packaging applications and complies with FDA's Food Contact Notification 000635, covering PET polymers. Zuckerman Honickman supplies the container as well as the plastic overcap, injection-molded from high-density polyurethane.
The foil lidding, a composite material, is a "trade secret," says Wynn-Ryan. She adds, "There are definitely a lot of trade secrets within Vinoware, including many different aspects of the package itself as well as the bottling process, that prevent oxidation. There is an oxygen scavenger in the container, and that's one of many components that gives us the long shelf life of 24 months."
A polyvinyl chloride shrink-sleeve label is used to unitize four stackable wine containers. The label is converted by Hammer Packaging, which flexo-prints the material in up to nine colors, depending on the brand owners' specifications.
Among the advantages of a four-container StackTek package versus glass are that it is up to 50% lighter than a 750-mL bottle, is 57% more space efficient than a four-pack of mini bottles, and allows for 40% more product per truckload due to its lighter weight. The StackTek process also uses less energy to produce the plastic and transport the containers (11 lb CO2 equivalents/100,000 oz drink versus 16 for aluminum and 26.6 for glass), and emits less greenhouse gas (1,255 million BTUs/100,000 oz drink compared with 2,766 for aluminum and 4,848 for glass).
In 2014, Stacked Wines helped launch two new brands in the StackTek package: Stormhoek, out of South Africa, and Xo,G, in partnership with television personality Giuliana Rancic. While Stacked Wines provides turnkey services for Stormhoek's product, Xo,G is a proprietary Stacked Wines brand.
Fully integrated line
When it came time to engineer the StackTek packaging line, CEO Zimmer, with a background in mechanical engineering and experience in building bottling facilities, took charge of the process. The line is housed in a Seven-Up Bottling Co. co-packing facility, where Stacked Wines subleases the space and is provided with operators—overseen by a Stacked Wines operations manager—to run the line.
The keystone of the line is a custom-engineered filler, the StackTek MAP-Pack 1X6. The proprietary filler uses a modified atmosphere packaging process to extend the shelf life of the products packaged in the StackTek container. "A lot of R&D went into our filler to make sure that we were bottling a product that would have a long shelf life and that there wasn't any oxygen in the headspace."
The fully integrated line begins with a bulk depalletizer that carries the 187-mL containers through a modified pressure-sensitive labeler that places a half-wrap label on each. Next the containers move through the filler, a monobloc machine that includes foil-lid and plastic-cap application technologies.
Stacking of the containers follows, using a custom-designed section of conveyor that stacks two sets of two packages, and then combines them in a four-count stack. After stacking, the products are wrapped with the full-body shrink-sleeve label and are then carried through a steam tunnel. A top-load case packer then loads 12 "bottles" into a corrugated shipper, which is manually palletized.
Endless possibilities
According to Wynn-Ryan, because the line is vertically integrated, Stacked Wines has been able to realize greater efficiencies and speed; the line operates at 180 bottles/min. "Previously, there were many different steps to the process, where different suppliers had to assemble different pieces of the finished goods," she says. "Now the whole thing is done all on one line. It's much more efficient than what we were doing with the previous methods.
"Also, because we own the line, we are able to do any kind of tooling or tweaking we want as needs come up. We are still in the early stages of our trajectory, so we haven't actually produced different packs yet, but we have ideas for different configurations. So whether we want to create a two-pack instead of a four-pack, for example, that would be something we could pretty easily do with some modifications to the line and the packaging materials. Or, if we wanted to fill different wines, perhaps with a higher sugar content or with carbonation, we can make those changes in the line to accommodate different types of products."
Those are its short-term goals. Its long-term dream is to move outside of beverage. "We have brainstormed some very wacky ideas," she says. "We haven't currently done any R&D on running dry goods on our line, but that's something we would eventually love to get into. The possibilities are endless."
Companies in this article