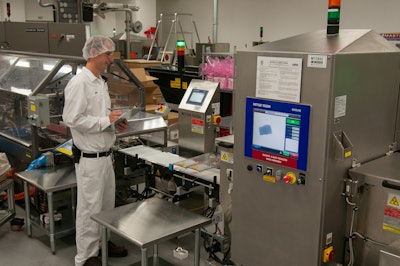 As the world's largest direct selling business, Amway is often called the original social network, where success is fueled by the power of relationships. This personal connection also extends between supplier and customer, creating a strong sense of responsibility that drives both to maintain stringent high standards of product quality. One example of this dedication is the decision by Amway to install equipment from Mettler-Toledo's Product Inspection Group at its advanced food manufacturing facility responsible for Nutrilite® nutritional powdered products, including its top-selling All Plant Protein Powder.
"Nutrilite has been a leader in plant-based dietary supplements for 80 years, with a global reputation for high quality products that are safe and effective," says Scot Morrell, Global Engineer at Amway. "Our manufacturing systems meet stringent quality and performance standards to safeguard the trust Amway business owners and their customers have in Nutrilite® products. The technology and systems from Metter-Toledo have performed at a level that has earned our confidence."
Previously, this facility used two Mettler-Toledo Hi-Speed XE2 checkweighers and one Safeline SideChek x-ray system on their canister packaging line. Metal detectors and other checkweighers supported two stick-pack lines and three pouch lines. "The success of that first Safeline x-ray system drove the decision to buy five more," says Brooke Ondersma, Quality Assurance Engineer at Amway. Now eight Hi-Speed checkweighers and six Safeline x-ray systems help inspect canisters and bulk stick packs on six packaging lines as well as cartons of stick packs and pouches, depending on the line.
The PowerChek x-ray system offers a high level of sensitivity to maintain the highest product safety. "Our stick packs and pouches are made of foil, so x-ray inspection after packaging on every one of our lines helps ensure final product quality," explains Josh Soyka, Amway's Technician for Nutrition Manufacturing.
The XE3 checkweigher uses electromagnetic force restoration (EMFR) weigh cells rather than strain-gauge load cells to achieve superior accuracy. With an accuracy of +/- 0.5 to 1 g, the XE3 automatically rejects over- and under-weight packages.
"Our new x-ray systems and checkweighers have similar user interfaces as previous inspection systems. That eased our transition and simplifies our training," says Michelle Swartz, Plant Manager at Amway. "Our operators find the controls on these machines to be very intuitive."
At this facility in Ada, MI, Amway manufactures 54 different nutritional powdered formulations. On six lines, the company packages 450-g canisters, stick packs from 130 to 180 mm and single-serve pouches from 23 to 109 g. One stick-pack line and one pouch line typically change over two to 10 times each day while the other lines are more dedicated.
"The x-ray systems and checkweighers are the easiest machines on our line to change over. Four taps on the touchscreen and the new product is selected. If the package size also changes, we can adjust the guiderails in less than one minute," says Soyka.
"We've been pleased with every aspect of this project including upfront and after-sales support," notes Morrell. "We installed the equipment ourselves to have the most schedule flexibility, and even that was easy. This can be a challenging environment with powders that can be abrasive to equipment, yet the Safeline x-ray systems and Hi-Speed checkweighers have been very reliable."
"We take our product quality and consistency very seriously so our goal of no customer complaints is the ultimate measure of success," concludes Swartz. "We also work hard to drive out quality and performance losses by eliminating downtime, bottlenecks, and false rejects. Our inspection equipment from Mettler-Toledo contributes to our success in all these ways."
Read a list of additional Amway stories here. Stories on the list may be read by clicking the article's headline.
Companies in this article