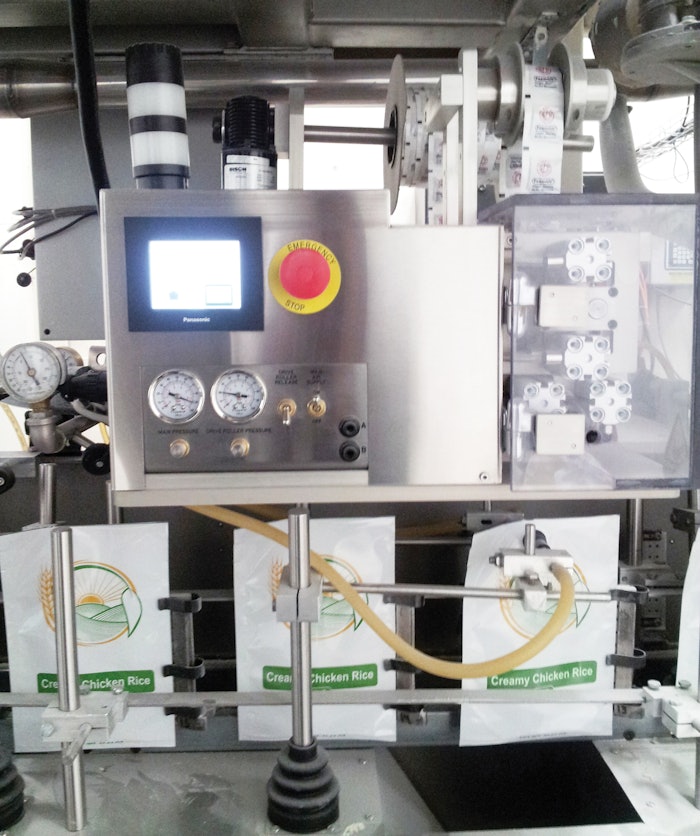 Augason Farms, West Salt Lake City, UT, specializes in producing and packaging an extensive line of high-quality, long-lasting shelf-stable dried foods and ingredients such as freeze-dried meats, vegetables, fruits, eggs, milk, butter, rice, and beans. Augason Farms is a member of the Blue Chip Group, Inc. (also including dried food manufacturers Grizzly Ridge and Crown Canyon).
The Augason products are packaged in 601 x 610 and 401 x 411 two-piece steel cans, supplied by Price Container (www.pricecon
tainers.com), and in 4-layer foil-based pouches that are 4-mil thick and range in widths of 155-, 165-, and 195-mm and in varying lengths up to 300-mm. The pouches are formed from rollstock supplied by Temkin International, Inc. (www.temkininternational.com), a local supplier who has been very responsive to Augason's needs. These pouches are formed, filled, and sealed using both Bartelt and Mespack horizontal form/fill/seal (HFFS) machines. The Mespack Packaging Machinery system (www.mespack.com) is brand new equipment, recently purchased. The Bartelt is an older, rebuilt system. Augason's canned products are auger-filled, checkweighed, and seamed closed also using older, existing equipment.
All of these dried foods and ingredients are targeted primarily toward further processors of foods such as soups, sauces, drink mixes, bakery mixes, and prepared entrees who do not want chemical preservatives in their food formulations.
As part of its operating procedure to ensure extended shelf life, the company inserts oxygen-absorbing packets into each container of product prior to can top-seaming or pouch sealing. Manual insertion of these packets was not keeping pace with production speeds to meet growing demand for Augason's products.
Robin Keyworth, Facilities Manager for Augason Farms, says, "We had been dropping oxygen absorbers into our canned and pouched products by hand. But with increased growth demands, it became impossible for employees to keep up. We knew we had to automate the process, and it was critical that the insertion equipment we selected be able to deliver both quality performance and excellent support services."
After evaluating various options, Augason Farms chose an automatic in-line insertion system from ABOX Automation Corp. (www.aboxautomation.com). The pouch dispensing system includes a precise feed-and-cut mechanism and packet-length verification software to assure rollstock cutting accuracy. The machine is capable of taking a roll strip of packets and precisely cutting and automatically dispensing individual packets into a variety of containers, including cans, jars, boxes, pouches, etc. System options include moisture/oxygen barrier monitoring probes.
Keyworth notes, "The ABOX oxygen absorber inserter engineering was well thought-out, and the machine is compact (2' x 2' x 2'), easy to use, service, and maintain. Also, ABOX engineers and sales people focused attention on machine modifications and auxiliary systems that met our specific needs—including escapements, chutes, and conveyors."
The compact ABOX machine easily fit into Augason's existing packaging line space and did not require any major line reconfigurations. The inserter operates at up to 250 cycles per minute and has resolved bottle-necking on the packaging lines. The canning line now is running almost twice as fast—at about 19,380 cans per day versus about 10,200 CPD under the previous manual insertion operation.
Keyworth says, "With this much increase in productivity, we realized a Return on Investment for the ABOX oxygen absorber insertion system in just four to five months. We currently are working with ABOX to expand the system's use on our remaining lines."
Companies in this article