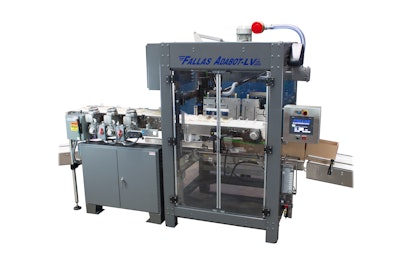 From cheddar to provolone to mozzarella and more, Great Lakes Cheese of Hiram, OH, is a leader in the packaged cheese market, with its products accounting for about 25% of all packaged cheese sold in the U.S. each year. In 2013, sales for the privately held company reached $2.4 billion. Great Lakes' core competency lies in slicing, cubing, and shredding product and packaging it for private-label and brand name customers. The company produces approximately 15% of the cheese it packages, with the rest purchased through dairies and cheese makers across the country.
Making possible its incredible output—company Vice President John Epprecht estimates the company purchased 1 billion pounds of cheese in 2013, according to an article in Crain's Cleveland Business—are Great Lakes' eight production facilities in Ohio, New York, Utah, and Wisconsin, equipped with state-of-the-art packaging equipment and automation. (A ninth plant in Manchester, TN, representing a $100 million investment, is scheduled to open its doors later this year.)
"Over the past five to seven years, we have come full circle with robotics and automation," says Chris Hall, Engineering Manager for Great Lakes. "At one time, we didn't even have robotics in case packing. Now we have it from one end to the other in our plants, because of the reliability, speed, and cost justification achieved through automation."
Great Lakes' most recent robotic installations include the Model R700 ADABOT Triple Case Packer from Fallas Automation in its Hiram plant, and a Fallas Model R700 ADABOT-LV Retail Ready Case Packer for its Plymouth, WI, facility.
The first model handles sliced cheese in flexible packages, which require gentle handling in order to ensure the shingled cheese does not move around in the pack. "Sliced cheese case packing is somewhat unique considering the package is still loose, or not drawn down [with vacuum], when packed," explains Hall. "The robot moves need to be carefully tuned and repeatable in order to avoid disturbing the slices."
In selecting a robot for this application, Hall says Great Lakes was looking for a system that could not only handle the specific requirements of sliced cheese, but also provide reliability, ease of changeover, and speed versus manual case packing.
The triple pick-and-place unit was originally installed with two "BOTs," notes Hall, but when Great Lakes upgraded its cheese slicer, it added the third robot to keep pace with the line's increased speed. "This is one of the benefits of the ADABOT system," he says. "It provides flexibility for growth and change."
The Model R700 Triple ADABOT picks packages from 6 to 32 oz from a conveyor and places them into pre-erected cases using a custom end effector engineered by Fallas. Depending on product size and case configuration, the case packer operates at speeds from 85 to 220 packages/min. According to Hall, the system has been so successful that Great Lakes has added several more triple-BOT case packers.
As for the Model R700 ADABOT-LV, designed for retail-ready applications as well as conventional lay-flat and horizontal formats, it is being used in the Plymouth plant to case-pack 6- to 40-oz bags of shredded cheese into a display-ready case. During operation, packages are delivered to the case packer lying on their sides. The robot then picks up the packs and places them into a stack that is then rotated and placed in the case standing upright.
Since installation of the systems, Hall says that "the robotic automation has allowed Great Lakes to achieve speeds that previously weren't possible when packing by hand." Commenting on quality and accuracy, he says they are comparable to manual case packing—a compliment, he adds, given that manual packing allows for individual inspection by an operator.
See the R700 Triple ADABOT in action.
This article is part of the August 2014 Robotics & Automation Special Report. See the full article here.
Companies in this article