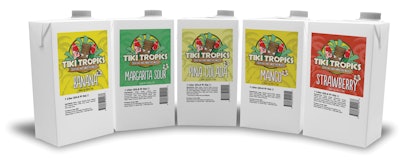 Beverage Innovations, a Delray Beach, FL, supplier of fruit-based drink-mix components for foodservice operations, began its business in 2005 with the goal of being a "beverage incubator for various opportunities and applications in the foodservice space," according to Managing Partner and Director Jamie Day.
In North Carolina, one year later, another group of innovation-minded entrepreneurs, including J. Michael Drozd, launched Aseptia, a business built around the development of a new aseptic processing technology. In mid-2012, Aseptia's fully owned subsidiary, Wright Foods, opened a $10 million facility in Troy, NC, to formulate and co-pack food products in aseptic cartons that maintain the freshest taste without preservatives, while preserving food safety and offering a longer shelf life, explains Drozd, now President and CEO of Wright Foods.
In 2013, the Florida beverage incubator and the North Carolina technology business came together to launch a new product for Beverage Innovations—the Tiki Tropics line of aseptically processed and packaged exotic cocktail mixers—that has resulted in new business opportunities for the company.
"It definitely opens the door to a tremendous number of new markets," says Day. "If you think about places such as Central and South America, and the Caribbean, where freezer space is not only at a premium, but it's also very expensive, shelf-stable products lower your logistics costs as well as your ongoing handling costs. So it really expands the horizon of product availability for these high-end cocktail mixers in these types of markets."
For Drozd, the horizon expands beyond those places with limited cold-storage capability. His goal is to transform the American consumer's perception of processed food. "I don't think processing is necessarily a bad word," he says. "We are trying to transform it to say that we are really not a processor. We are more about making packaged food taste like fresh by maintaining the flavor, yet giving it some shelf life so that it won't go bad. That's the real key." (See pwgo.to/723 to learn more on Drozd's thoughts aseptic trends.)
Processing quality is key
Wright Foods' Troy facility—expanded from a former 37,000-sq-ft chicken processing plant to a 60,000-sq-ft aseptic plant between January and August 2012—produces a range of aseptic packaging formats, including cartons, spouted pouches, and bags for foodservice and retail customers. Multiple processing lines feed a SIG Combibloc 505 aseptic cartoning machine; form/fill/seal spouted pouch machines from an unnamed supplier; and a new Sealed Air Cryovac® Flavor Mark™ 4-lb (1.89-L) aseptic pouch machine that handles both low- and high-acid aseptic products for retail, deli, and foodservice.
Wright's processing technology comes from parent company Aseptia, which worked with North Carolina State University to develop a process that maintains product quality. Says Drozd, "If you look at one of our products, such as salsa, for example, you will see nice big chunks of tomato and big chunks of green pepper. In conventional aseptic processing, you've got thousands of feet of heat exchangers, and as you pump product through, it just turns to mush. What we do instead is we maintain the integrity of those particles with rapid heating and rapid cooling. In this way, the product does not deteriorate."
Expanding rapidly, the plant employs more than 157 employees—a number that is expected to rise an additional 500 in the next five years. The primary plant has been expanded to 100,000 sq ft, and an additional 60,000 sq ft is currently under construction. This will put the total footprint of Wright at 160,000 sq ft.
When considering aseptic carton packaging equipment for the new business, Wright had two main requirements: the ability to handle particulates, and flexibility. SIG Combibloc's technology met both needs. The Combibloc C505 cartoning machine has been specifically designed to handle both liquid and viscous products as well as foods with a very high particulate content—including soups, broths, stocks, tomato products, gravies/sauces, fruit and vegetable products, baby foods, and even desserts.
Regarding flexibility, the Combibloc 505 accommodates 500-, 750-, 1,000-, and 1,100-mL sizes, and allows for nearly instant size changeover, without re-sterilization or the replacement of machine parts. Changing from one product to another is accomplished in just a few hours' time. Says Drozd, "We are all about meeting customer needs, and customer needs can come in so many different forms, sizes, and shapes that you need to have as much flexibility as possible."
At Wright, the combination of proprietary processing technology with SIG Combibloc's filling equipment has resulted in a very successful partnership. "Our processing itself, without the filling technology to handle particulates, doesn't do us any good," Drozd says. "In turn, SIG has great filling technology, but it doesn't work without a process behind it. Together we have the ability to create and package products that have never been possible before."
New foodservice opportunities
Meanwhile, back in Delray Beach, since its launch in 2005, Beverage Innovations established itself as a developer, producer, and packager of custom beverage concepts using "the highest-quality fruits and natural ingredients," says Day. The company distributes product in approximately 20 different countries, primarily to foodservice customers (90% of its business) and operates three production facilities, as well as its Delray Beach headquarters.
Among the company's branded products are its Tropics line of frozen, fruit-based mixers in gabletop cartons; CocoTropics coconut milk flavors in 15- and 57-oz cans; Venga Functional Infusions line of non-carbonated tea/fruit-juice blended drinks, enriched with vitamins and minerals, distributed mainly in Europe; and most recently, its Tiki Tropics line, produced by Wright.
Over the years, Beverage Innovations had experimented with other aseptic providers to create shelf-stable products, "but there was always a difference in quality from what could be produced aseptically versus frozen, because of the nature of the pasteurization process," says Day. "You always have to pasteurize it longer, which definitely degraded the fruit quality.
"One of the advantages that Michael [Drozd] talked about when I visited their plant was that they started with the processing technology. That was really their differentiating factor—the quality.
"Wright Foods filled a void in the marketplace in the foodservice area for the different types of products that we do. They are able to pack high fruit-content products in a container that doesn't have to be frozen."
Another advantage of Wright, Day adds, is that they don't produce their own product for the fruit-based mixers market. The other two major providers of Combibloc aseptic packaging in the U.S. do. "Wright has the first Combibloc solution in the U.S. that is non-competitive," says Day.
Regardless, Day adds, Wright offered his company a better option, due to its more current technology. "The other suppliers were built in the '80s and '90s, when technology was different," he says. "Wright has really been able to focus their plant design and direction to meeting today's requirements versus those of the past. That's pretty important to us. Logistically, they are also set up in a nice part of the U.S."
Since August 2013, Wright has been producing and packaging Beverage Innovations' five-flavor line of Tiki Tropics in a 32-oz combiStandard aseptic pack with combiCap closure. The closure, applied over a film-covered hole in the carton after filling, allows for opening with a single twist. The closure consists of a flange with integrated cutting ring and a screw cap. When the consumer twists the closure, the tamper-evident feature on the original seal is broken with an audible click. The product offers a 12-month shelf life and can be kept refrigerated for 21 days after opening.
Currently, the Tiki Tropics branding is applied to the carton with a pressure-sensitive label, with graphics produced by Beverage Innovations—a temporary solution during the pilot and start-up. By the end of the year, Day says Beverage Innovations hopes to decorate the carton with a full graphics sleeve.
Aspectic packaging process
During aseptic carton packaging at Wright's plant—a 5,000 carton/hr operation—the process begins when operators fill the carton magazine with carton blanks, which are then extracted two at a time by a suction mechanism, opened up into rectangles, and placed on a mandrel. The carton base is then activated by hot air at two stations. While the mandrel conveys the two sleeves to the base-pressing station, rotating lateral folding arms and a longitudinal folder pre-fold the carton base. Base-pressing dies and the front face of the mandrel press and seal the carton base.
From there, the tops of the cartons are pre-folded along grooves, to ensure the correct shape after filling. In the aseptic, or sterile, zone of the machine, packages are sterilized with hydrogen peroxide and dried with heated, sterile air. Next, they are filled in a two-stage process with product pumped from processed food held in tanks. According to Wright VP of Research & Development Pablo Coronel, Ph.D., the two-stage filling process enables greater control of the process and allows two products to be filled in a carton.
After filling, ultrasonic tools fold the carton tops and seal them above the fill level. Before the cartons are sealed, steam is injected into the packages to reduce to a minimum the headspace volume after cooling. After sealing, hot air is used to heat the polymers on the top triangles of the narrow side of the cartons. The top triangles are folded down and sealed to the cartons.
Exiting the filling machine, filled and sealed cartons are conveyed past a Videojet 1520 continuous ink-jet printer that adds a code to the top of the carton. From there, cartons are conveyed to a meurer HSP horizontal first-in, first-out accumulator, supplied by Meurer and integrated by SIG Combibloc. Exiting the accumulator, cartons are gripped by clamps to slow them down before they are fed into the Combibloc CTL closure applicator.
To facilitate cap application, when the preformed carton sleeves are converted, a laser is used to precut and apply film to what later becomes the carton's opening. During fitment application, the top of the carton is heated for adhesion, while the fitment is positioned in-line by a feed rail, lifted by a gripper, coated with glue delivered by a Nordson PROblue® 4 melter, and applied above the pre-lasered cut in the carton.
Following cap application, cartons either receive a pressure-sensitive label from a Barry-Wehmiller Accraply label applicator, or they advance to case packing, handled by a Meurer machine. (While some cartons remain unlabeled and held in storage for future label application, others are preprinted by SIG Combibloc per customer specifications.) The case packer, a meurer CM/TP 25-B, which accommodates both trays and wraparound cases, can produce case configurations of 2X4, 2X5, and 2X6.
Future as world-class supplier
Eight months after introducing Beverage Innovations' Tiki Tropics into new markets, Day has only positive things to say about the new product and his experiences with Wright. "The product and packaging quality have been excellent," he says. "I can tell you that we have done this two times previously with other aseptic providers, and both times there was quite a bit of start-up pain and agony.
"We have been extremely, extremely happy with what has come out of Wright's plant, not only during the pilot run, but also for the first production run. Certainly, adjustments needed to be made, but based on our previous experiences, this was a home run.
"In a nutshell, we think that Wright has the capability to become a world-class innovative packaging solution provider in this particular category, and we are looking to them as being a long-term partner. We are very excited about the future with Wright Foods."

Companies in this article
Videos from Nordson Corporation