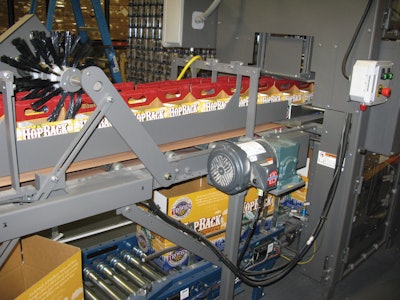 "Seems like Troegs has been under construction since we launched in 1997. We embrace that mindset of constant reevaluation and modifying as we go."
That's how John Troegs, who established Troegs Brewery with his brother just before the new millennium, sums up the Pennsylvania craft brewer's history thus far. From modest beginnings they've grown to the point where they produced 55,000 barrels of beer in 2013. Originally located in Harrisburg, the company moved in 2011 to Hershey, PA, a stone's throw from Hersheypark family theme park. Helping Troegs relocate their existing bottling line was Conveyor & Automation Technologies, Inc., whose Mike Tymowczak proved invaluable.
"When Mike's team helped us move and reconfigure our old line from Harrisburg, they did it incredibly fast," says Troegner. "Mike has a lot of experience in a lot of plants, so when he recommended even modest adjustments in a conveyor connection or a sensor or a variable frequency drive, it made a big difference. When we started producing in Hershey, it was basically the same equipment we had in Harrisburg. But in Hershey, it was 200 or 300 percent more efficient.
"Then when it came time to install a new bottling line here in Hershey, Mike bid on it and we liked his proposal. Where major pieces of equipment like filler or labeler were concerned, he didn't select those, we did. But Conveyor & Automation integrated everything and made it all work together. It becomes all the more impressive when you consider that while they were in the middle of designing the new bottling line, I sprung a new canning line on them that shares space and even some equipment with the bottling line."
The new bottling line Troegner refers to has been running since August 2013. Hard on its heels came the canning line, which went into commercial production in December. As if that weren't enough, the brewery also installed at about the same time a new rinser/filler/capper for cork and cage bottles in 375- and 750-mL sizes. Few American craft brewers release beers in this fermented format, where bottles resemble champagne bottles. But Troegs is known for pushing the boundaries, so it comes as no surprise that fermented beer in cork and cage bottles have been added to their repertoire.
The cork and cage line is the least automated of the three new lines, and in some ways it isn't a "line" at all but rather a standalone monoblock rinsing/filling/closing machine provided by CFT. The same Italian machinery manufacturer supplied the filling equipment on both the new bottling line and the new canning line. Why an Italian machinery builder when, as everyone knows, beer is all about Germany? Troegner explains.
"A lot of the filling equipment for companies our size is coming out of Italy. When we learned that CFT would be able to provide filling equipment for all three of the new lines we had in mind, naturally it caught our attention. We also liked that their machines would share a great many spare parts as well as the same operating system. And then there was the flexibility they brought to the picture. Keep in mind that we were asking for filling equipment to fill six sizes: 375- and 750-mL cork & cage, 12-oz and 22-oz bottles, and 12- and 16-oz cans. As we talked with friends in the craft brewing network, we kept hearing good things about CFT's ability, which is why we gravitated toward them."
Among the things that make the new bottling and canning lines so intriguing is the fact that they share the same high-level Priority One depalletizer. "It's a used piece of equipment that we bought online," says Troegner. "Priority One came in here when we first installed it, plugged in their computer, and in a couple of hours it was humming along. It had been used for PET bottles at 900 per min. If anything we had to slow it down a bit."
Like most craft brewers—even fast-growing ones like Troegs—blinding speeds are not a necessity. Troegs runs its 12-oz bottles at 230/min and 12-oz cans at 177/min.
Bottles or cans
Sharing the same depalletizer for cans as they do for bottles, Troegs can only run one or the other. On the day of our visit, 12-oz bottles were in production, so we'll follow that path for the most part and inject observations about can filling toward the end.
As was mentioned earlier, the depalletizer is of the high-level overhead variety. It discharges bottles onto a mass conveyor. Facing the depal discharge area and sitting on an overhead mezzanine layer installed by Conveyor & Automation are three machines from Pearson Packaging Systems. They erect and send paperboard six-pack carriers in corrugated RSCs in the opposite direction that the bottles are travelling. One Pearson unit pops up the paperboard carriers from flat blanks. Beside it is a case erector that erects and bottom glues corrugated cases. These machines advance carriers and cases forward to a third Pearson unit that stuffs the carriers into the cases. The cases then are conveyed down a decline conveyor that brings them to a robotic case packer. Troegner explains why Pearson equipment was picked for these tasks.
"Back in the Harrisonburg plant we had some really old Pearson equipment and experienced some issues with the timing. So I called my Pearson contact and he said, wait a minute, I think the guy who built that equipment in the 70s is out on the floor. So he gets the guy on the phone and I hold my phone up to the Pearson equipment and he listens to the rhythm of it and he tells me exactly what to do to get the timing issue resolved. It's been that same level of service and knowhow with these brand new machines, too."
Meanwhile, bottles exiting the depalletizer in a mass flow are narrowed to a single lane by a pressureless combiner supplied by Conveyor & Automation. Next is a lowerator, also from Conveyor & Automation, that sends bottles down to the filling floor along a path that parallels that of the cases. The bottles move smoothly into the CFT block, which rinses, fills, and crowns them. The block holds 32 rinsing nozzles and the same number of filling nozzles. Bottles then are conveyed through a Heuft system that checks for any bottle that is underfilled or that has a missing or misshaped crown.
Labeling is next, but first is a bi-directional accumulation table from Conveyor & Automation. Should downstream equipment go down, the table holds up to three minutes of accumulation.
Cut and stacked paper labels are applied by a labeler from PE. "We do front and neck right now," says Troegner. "But we could install a module for back labels if we want." The labels are supplied by Gamse Lithographing Co.
Robotics
Next is robotic case packing, performed by a Fanuc Model M-710i whose end effector was designed and built by Conveyor & Automation. It uses rubber grommets that inflate around each bottle neck to grip and lift 12 bottles at a time and place them in a waiting case.
"We also decided to put in a vision system," says Troegner. "A camera takes a picture to make sure 12 bottles are in place. The system will also pick up a wrong crown in case that should show up. We're also putting in the same kind of camera at the infeed of the robotic case packer so we can check if all paperboard carriers are in place."
Troegner acknowledges he had a few misgivings about moving to robotics and away from a tried-and-true drop packer. But he was not happy with the breakage he was getting with the drop packer. "Sometimes the impact of the drop would cause a pinhole leak that would make it possible for a bottle to make it out to the trade. We struggled with how to catch these problems. And it seemed the only way to do that was to go to soft pack of some kind. It was Conveyor & Automation's idea to integrate a robot, which I had only seen in very high-speed lines. And they always seemed too expensive. But this system has worked out great, and bottle breakage is dramatically reduced."
Once past the vision inspection system is a Pearson case closer and gluer. A Columbia palletizer and Lantech stretch wrapper bring the line to a close just a few feet away from where the depalletizer sits.
Filling the cans begins on the same Priority One overhead depalletizer used for bottles. The same pressureless combiner is used to single-file the cans. Next is a lowerator/rinser from CFT that takes cans from the mezzanine level to the filling floor and a CFT filler/seamer. An air knife blows cans dry, a Heuft inspection system checks for accurate fill levels, and then the cans enter a Switchback cartoning system. It forms paperboard carriers from flat blanks, inserts cans in 4-, 6-, 12-, or 24-count formats, and then glues the carriers shut. The carriers are packed by hand into corrugated trays.
"We used to joke that cans are only good for soup," says Troegner. "But it's a lifestyle package that a certain group of consumers definitely want, active people, for example, who like to pack them in and out of a camping or hiking trip. One concern I'd always had is the ability of the filling and seaming equipment to eliminate oxygen sufficiently. On large, high-speed canning lines they've figured that out, obviously. On small lines like what we were looking at, it hasn't always been so. But people I talked to about the CFT filler/seamer had such good things to say about how it minimized oxygen pick-up that we decided it was time to get into cans."
To grow the can business, says Troegner, a second depalletizer and pressureless combiner will be needed so that cans and bottles can run simultaneously. Another upgrade being considered is laser coding to replace the ink-jet coding currently used on both bottles and cans. "I need to sell some more beer before I can do that," jokes Troegner.
The packaging line additions just completed should help that cause. Troegner is clearly pleased by the brewery's new capabilities and by how smoothly the installation has gone. He describes it this way.
"Having really good project partners is so crucial to the success of a new line, and one thing that Conveyor & Automation brought to the table is a phenomenal project management team. We're not the biggest brewer out there, nor are we the smallest. Sometimes vendors have a little trouble with our size, but that was not the case here. Conveying and line integration were probably the most challenging, because we needed to fit canning and bottling in such a small space. But Conveyor & Automation did a great job on it. They also were helpful in educating us on what we thought we needed versus what we really needed. This was the first time we took on such a large project, so we relied pretty heavily on Mike's experience and his project managers. It's nice working with a company that really knows what it's doing."
Companies in this article