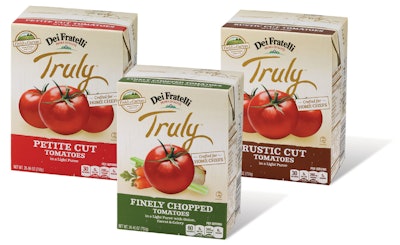 Steel cans with seamed-on ends are still plenty important at Hirzel Canning Co. & Farms. But this fourth-generation family-owned firm in Northwood, OH, has also made some pretty bold moves lately in newer packaging formats.
Especially notable was the recent installation of a SIG Combibloc aseptic carton filling machine for diced and chopped tomatoes that handles sizeable tomato particulates. But first came Truly Tomato and Truly Vegetable juices. In some respects these aseptically packaged, shelf-stable juices paved the way for the line of aseptically cartoned diced tomato products, so let's start with the juices.
These 1-L juices are packaged for Hirzel by Island Aseptics. Why a co-packer? "They had the SIG Combibloc cf2 machine in place, and using a copacker lowered the cost of entry," says Hirzel President Steve Hirzel. "The cf2 isn't all that new, but the fact that the juice is not from concentrate is brand new."
Hirzel says the juice base is aseptically packaged in 300-gal plastic film totes from fresh tomatoes in Hirzel's Ottawa, OH, plant. Filling equipment from Scholle is used, combined with heat exchangers and sterilization/cooling systems designed pretty much in house by Hirzel.
"It's single-strength, not-from-concentrate juice that goes to Island Aseptics," says Hirzel. "No water gets added, and there's not much re-sterilization needed at Island Aseptics because the product is already sterile when it reaches them. We don't know of anyone else in tomato juice who is taking this approach."
The 1-L combifitPremium cartons are topped with the combiSwift screw cap and are coded with a best-by date 18 months from date of production. They sell for $2.59 to $2.99. "These juices make getting the nutritional value of tomatoes much easier for consumers," says Hirzel. "Dei Fratelli tomatoes are grown on family farms in the fertile Lake Erie Basin and transported only a short distance to preserve the flavor, which is what we mean by 'Field to Carton.' We are pleased to offer our not-from-concentrate tomato and vegetable juices in this eco-friendly, convenient carton for our consumers."
On to tomatoes
The not-from-concentrate juices reached the market in December of 2012. Before they even reached store shelves, the Truly Tomatoes line was in development.
"When we launched the juice we already had the tomatoes in mind," says Hirzel. "There's a segment of consumers looking for tomatoes in packaging other than cans and glass. And as cartons have grown in broth and soup, the idea of tomatoes in cartons becomes less of a disconnect. This group of consumers also responds to the idea of the carton being more environmentally sustainable. It's 75% paperboard, so it's made from renewable resources. It's FSC-certified, too. And then there's the energy saved in making this package compared to steel or glass. And finally, shipping these flat sleeves means one truck load instead of seven or eight trucks for cans or glass."
Unlike the juice products, aseptic packaging of the tomatoes was conceived as an in-house concept, even though the upfront cost was daunting.
"Yes, the capital cost of aseptic packaging is significant, from sterilization to cooling to the mixing and pumping systems required, not to mention the control systems it all requires," says Hirzel. "And then there's the filler itself, another significant capital investment, especially in an industry where so much of the equipment for canned tomatoes is depreciated. That's not to say we haven't been adding new technology to our canning operations as it becomes available, but aseptic packaging is an investment on a whole different level. It will take time to amortize it. But we didn't have a lot of options. With the juice there was a copacker who had the filling system we needed. But there is no other SIG Combibloc 550 full-particulate machine like this in the U.S. To produce our line of Truly Tomatoes, we had to buy the machine to do it. We'll certainly look at producing other brands on a contract packaging basis, which will help us run the new equipment closer to capacity than if we only filled our own brands."
Sleeve-fed again
Like the machine that fills the not-from-concentrate juices, the SIG Combibloc 550 pulls flat sleeves from a magazine, erects them on a mandrel, and seals the bottoms. Sterilization is done with a spray of hydrogen peroxide. Filling is through the top, after which the filled carton is heat-sealed closed. The Truly Tomatoes come in Petite, Finely Chopped, and Rustic Cut varieties, and all three are in a light puree.
Each carton holds 750 g (26.46 oz). Consumers are instructed on the back of the carton that if they have a recipe calling for a conventional 28-oz can, one carton can be substituted. Selling price ranges from $2.99 to $3.99 each, depending on the distribution channel, says Hirzel. As with the aseptically packaged juices, shelf life is 18 months.
Other equipment on the tomato cartoning line include an ink-jet date coder from Videojet, proximity switches from Sick, and a tray packer from Meurer. "For the most part we do 12-packs in either a 2 x 6 or a 3 x 4 pattern," says Hirzel. "But the Meurer can do a complete wraparound case, too." Filled trays are sent through a shrink wrapping system that Hirzel already had in the plant. As for palletizing, it's done manually for now.
"Distribution for both the juice and the tomatoes is just getting ramped up," says Hirzel. "We are finding that once we introduced the aseptic tomatoes it became easier to bring in both products as a portfolio of offerings."
When asked what it was like to be the first to aseptically package large-particulate products on the SIG Combibloc 505, Hirzel says there really weren't that many surprises.
"We've been in aseptics over 30 years with our bulk bags," he points out. "That's how we efficiently shelf stabilize product coming out of the fields with minimal loss of flavor or nutrients. We know aseptics and the discipline it requires, so we knew we could make this work. Now it's a matter of seeking out other tomato products we can develop that will help us utilize capacity.
"What's crystal clear is that the HTST processing yields an extremely high-quality product. Time will tell how the consumer responds. But at this relatively early date, the retailers are liking it. They agree with us that it's a category in need of innovation."
Companies in this article