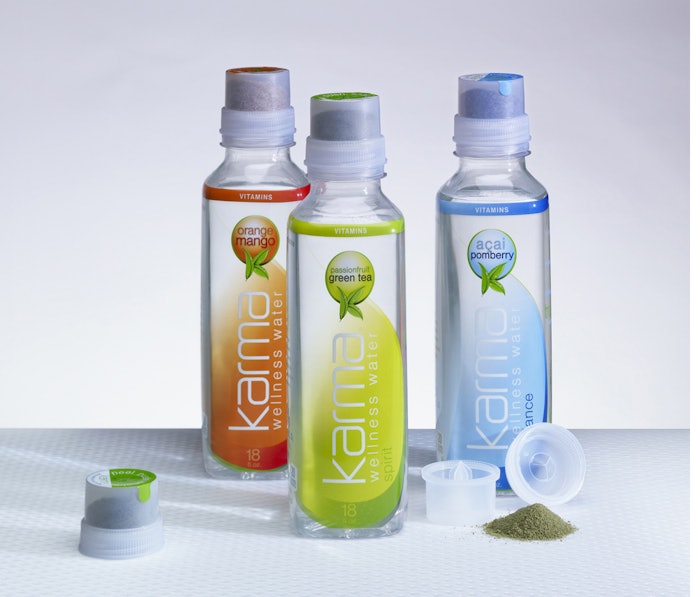 Branson Ultrasonics Corp., a subsidiary of Emerson, helped Karma Culture LLC overcome the challenge of welding the patented KarmaCap, a dispensing capsule that holds vitamins and other essential ingredients separate from the water until the consumer peels back the protective seal, pushes down on the cap, and gently shakes the bottle to mix the drink. The "reservoir cap" is used for Karma® Wellness Water plastic bottles.
The driving force behind Karma is that vitamins deteriorate in water, causing premixed vitamin drinks to lose their strength over time. Branson's spin-welding technology and support enabled Karma to develop a solution to seal the KarmaCap, leading to the launch of the new natural, nutrient-enhanced water line.
Achieving the hermetic (airtight) seal between the low-density polyethylene (LDPE) cap and LDPE base is critical to preserve the freshness of the vitamins and effectiveness of the drink, enhance shelf life, ensure optimal quality, and allow consumers to keep nutrients and vitamins in sight.  (A "How it Works" section of the company's website describes the process.)
"Branson provided us with the expertise, technology and support to create welded components to a standard seven times greater than originally designed," says Darren Coon, CTO and a founder of Karma Culture. "Branson and its spin welding technologies were much more powerful, adaptive, and responsive than we could have imagined."
The customized spin-welding process joins circular thermoplastic parts by bringing the part interfaces together, under pressure, with a circular, spinning motion.
Branson and Karma collaborated on the design and development of the joint design to achieve the desired weld strength and optimal seal. Karma is using the Branson Model SW-300, a precision servo-driven spin-welding system capable of welding circular joint interface parts with accurate control and highly consistent results, while also meeting Karma's 20 cycle/min production needs so they can increase production.
Branson provided local on-site service and tooling technicians to get production set up and started at Karma's Pittsford headquarters and drew on its global expertise. After initially working with a competitor on the prototype, Karma's founder couldn't be happier that they chose to partner with Branson to develop the unique product packaging ultimately used.
"Product development envelopes you in a realm of innovation where you don't always know what you need, until you absolutely need it," Coon says. "Branson understood what we needed and was there the whole time."
Companies in this article