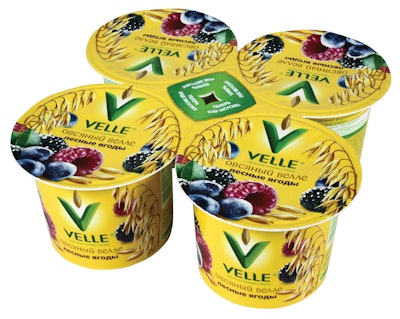 With consumers growing increasingly aware of the health benefits to be derived from oat-based foods, more and more variations of such foods are becoming available. Often enough, the packaging chosen for these introductions plays a key role, either in getting the product launched or in taking it to a next level. At St.Petersburg, Russia-based Velle Oats, it was all about getting to the next level. The company's fermented oat-based yogurt, based on a regional recipe from the Russian province of Karelia, grew so fast that a packaging machinery upgrade was essential.
"In 2006, when we launched this product out of our factory in St. Petersburg, we used preformed polypropylene pots," says Velle Oats CEO Yan Hervy. "However, we needed additional capacity, so in 2012 we decided to invest in thermoform/fill/seal technology to increase profitability."
The f/f/s system he refers to is the Model BAB4 from Arcil, a compact, low-capacity machine capable of 60 or 70 cups/min. Each cup holds 140 g. Product is dosed by an ultraclean Dosil-SML filler that is fully integrated in the machine. The machine also permits placement of fruit on the bottom of the cup, though Velle hasn't begun doing this yet. Filling is done four-up.
"This fermented, oat-based, non-dairy yogurt is highly sensitive to contamination," says Hervy. "The f/f/s technology has helped us improve hygiene levels not only because the plastic is heated just before filling but also because of the Infared lid decontamination system." The lidding material is a polyester that's gravure printed before having a paper substrate laminated to it.
Low in calories, rich in fiber, and tasty because of the fermentation of lactic bacteria, this yogurt is popular with women, who account for 80% of sales. "This yogurt is mainly distributed in more developed markets such as Moscow and St. Petersburg, so we were looking for an original container with a beautiful design to match our target market," says Hervy.
He got the look he wanted in a design proposed by Synerlink, the design and engineering organization created by Arcil. Cups are produced in either a two- or four-cup format, and each cup is decorated with a paper label printed offset in seven colors by Emsur. The labels are glue applied shortly after the cups exit the forming tools.
Oat-based fruit smoothie in PET
While Velle Oats opted to self manufacture and fill its own cups, New York-based Wellness Works chose to go the contract packaging route when it introduced its line of Oatworks beverages.
"Oatworks addresses the need from busy consumers to enjoy a convenient, nutrient-rich breakfast on the go," says David Peters, CEO of Wellness Works. "Our oat-powered smoothies combine the well-recognized health benefits of oats with real fruit to create a delicious and genuinely healthy 'snackfast.' They are also the perfect way to extend the appeal of oatmeal beyond breakfast throughout the day."
Weighing 19 g empty, the PET bottles are filled by Aseptic Solutions and take a 38-mm injection-molded PP closure. A full-body shrink sleeve label features the brand's signature "oat landscape" within a purple and off-white color scheme that pays homage to the inspiration behind Oatworks. The "O" also serves as a peek to what's inside, revealing the natural color and smoothness of each flavor. The emphasis on "what you see is what you get" reinforces the brand's natural appeal.
Oatworks is packed full of beta glucan, a naturally occurring soluble fiber that is considered to be the healthiest part of the oat and which is responsible for many of oatmeal's key health benefits. One single bottle of Oatworks contains as much soluble fiber as two bowls of oatmeal, as well as the benefits of fruit. The 12-oz bottles retail for $3.79 and have been available at select retail outlets since June.
Companies in this article